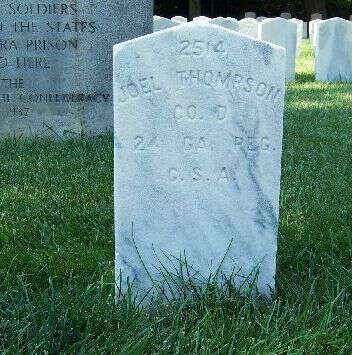 Photo from Find a Grave
Joel Thompson was Don Casada's 2nd great grand uncle, the brother of Alfred G. Thompson Don's g-g grandfather. Alfred died in the Civil War, a couple of days after being wounded at Chickamauga. He is buried in a national cemetery in Marietta, Georgia.
His daughter Maggie Thompson Price, the mother of Don's Grandmother Minnie Price Casada, died in childbirth. Don's Grandmother Minnie and her brother Will were taken in by the sons of WH (William H) Coleman – Andrew Jackson and James Coleman and their wives, Samantha and Laura Shearer (sisters who married brothers). You may remember William H served with WC Penland, the Civil War Soldier whose letters we've been reading.
There's a grave marker for Joel Thompson in Elmira, New York-you can see it at the top of this post. But at least one person believes he may have been buried close to home in Young Harris, Georgia.
Don Casada's research on his family's genealogy turned up two distinctively different stories about Joel Thompson's burial.
agatemoon on Ancestry.com shares the following information:
Joel Thompson died March 29, 1865 from the conditions of the Northern Prisoner of War camp in New York where he was taken after being captured. His wife Hannah when she found out that he had died left her young children with different family members and with a friend of the family went to New York to bring Joel home. Hannah had to first travel by wagon from Union county Georgia to Toccoa, Georgia to catch a train. She had to get on and off the train many times as the troops would commandeered the trains often. It took her another two weeks after she arrived in New York for the Northern officials to meet with her to give her permission to have Joel disinterred. Then the long journey home began. It was again on and off the trains having to remove Joel's coffin each time. Hannah was low on funds and she would stop and use her cooking, cleaning, and clothes washing skills to earn enough funds for the next part of the train fare. It is told after she was back on the North Carolina and Georgia trains they did not charger her extra for Joel's coffin. She made back in June. The war was over by the time she made it back home with Joel. Hannah was a truly brave and remarkable women. Women did not travel the distances or have make the hard decision that she had to make in that time period. Women only traveled with fathers or husbands any distance and they did not leave their young children with others to watch unless the were extremely ill or died.

Joel Thompson is buried in the Old Union Baptist Church Cemetery near Young Harris, Georgia

This story was told by Millie Ann Thompson Thomas, daughter of Joel and Hannah Coffey Thompson to her children. Millie Ann lived to be 108 years old. Her daughter Coreen Thomas Swanson who told me this story lived to be 95.
This alternate version was also shared on Ancestory.com by a different person:
This letter [see below] was handwritten and sent by Irene Thomas-Plott. It was sent to her son, James Ralph Plott, who lived in Key West, Florida during 1966-1967. Irene is the daughter of Millie Ann Annie Thompson and the granddaughter of Joel Thompson. Margaret, referred to in the letter, is the sister of her son-in-law, Donald McFaden, Annie Jo Plott's husband. Irene suggests that she and her mother Millie Ann Annie Thompson never knew where Joel was buried. Dennis is the son of Annie Jo and Donald McFaden. Joel Thompson's wife was Hannah Coffey.

Irene, daughter of Millie Ann Annie Thompson, never mentioned the story about bringing Joel's body back from New York. Like any good Thomas descendent, she loved to tell her stories. She would have talked about her grandfather's body being moved to Old Union Cemetery. Plus, ALL of the Thomas children and relatives would known of Joel's body being moved. Old Union Cemetery has no record of his body nor a grave plot/marker. The Elmira records have Joel being buried there.

Also, Irene Thomas never wrote letters. This is the only letter she wrote to her son James Ralph Plott. The finding of her grandfather's resting place was of great significance to her. As she mentions in the letter, "I wanted to go and tell my mother I had found her daddy…"

"The entire number of Confederate prisoners buried here (Elmira) during the life of the prison camp was 2,973. Soon after the war, three bodies were removed by friends and taken South for burial. There seems to be no record of the names removed. The entire record as kept by Jones was perfect with the exception of seven listed as unknown. All rights to Elmira Prison Camp OnLine Library Submitted Information – Chemung County Historical Journal: Underground Railroad Activities in Elmira [A biographical sketch of John W. Jones was written in 1946 by Abner C. Wright, then Chemung County Historian. It was an answer to an inquiry concerning Underground Railroad activities in Elmira.]BY ABNER C. WRIGHT"

"Each coffin was clearly marked with any information that the soldier had been willing to share; the information also was placed in a sealed bottle inside the coffin. Any valuables owned by the soldier at the time of his death were carefully cataloged and stored. The graves were identified with wooden markers and arranged in a pattern that suggested soldiers lined up for inspection. . . . When the families received the precious family photographs, treasures, letters, and remembrances that Jones had kept for them, they were so moved that only three bodies were removed for reburial. All rights to John W. Jones ex-slave From Wikipedia, the free encyclopedia"

Irene's letter reads as follows:

Dear All,

Well, I will tell you why I was in Elmira, New York Sunday as a week ago Margaret J and I went to Gettysburg, Penn. To look for something I thought I would never find, my grandfather's named, Joel Thompson. When I was a little girl, I heard my Grandma say something about my Grandfather being in Pennsylvania. When he died and my mother said the last time she went to see Grandma she said, "Ann, if any one ask you about your Daddy you tell them the Yankees had him." So, we went to Gettysburg where they keep records of the Civil War and asked if they had any record on Joel Thompson. Dennis was with us, so the man got four books down and ask me what I knew about him and if I knew what county he lived, so I said he lived in Towns County, Ga. Dennis picked one book up, started looking and counties and found Towns County, Ga., and then he saw Joel Thompson name. I will send a copy of what was in the book. I felt like I had found him in heaven. I read his name over & over. I cried. I wanted to go and tell my mother I had found her daddy and then I felt like they were looking down on me. They had found him first. Margaret, then went to Washington, D.C., where they keep records and found his records. There he was in a prison there for a while, so then sent to Elmira, New York. Put him in prison, there until he died. So, Margaret and I left last Friday to go and find where he has been sleeping for one hundred and two years and we found his grave and it's such a beautiful place. They sent him by train to Elmira, New York. We drove along the railroad track for miles, the one he was on, on his way up. We took a picture old prison ground where he died. Margaret took a movie of me going to his grave. I took a flag and put it on his grave. We will send you more pictures.

Love,

Mother Plott

****** Irene's mother, Annie Thompson-Thomas, lived with Irene and her husband, Newt Plott on and off for years. While Annie lived with Irene, she told her children and grandchildren, "the Yankees had her father", as directed by her mother Hannah Coffee-Thompson. Joel Thompson WAS and IS buried in Woodlawn National Cemetery, Elmira, NY.
After discovering the differing stories about Joel Thompson's burial site, Don visited the Young Harris cemetery and found no marker for Thompson there, just as the second story indicated.
The story of Joel's wife bringing his body home would surely bring the song The Legend of the Rebel Solider to the mind of anyone who has ever heard it.
Paul and Pap learned the song from the Country Gentlemen. I asked Paul about learning the song and this is what he said:
At the time, Doyle Lawson played mandolin. Bill Emerson played banjo; Bill Yates played the bass, and of course Charlie Waller sang lead and played the guitar. It was a cassette that I bought up at Wade's [Wade Powell] back when he had the recording studio. It's called "The Legend of the Rebel Soldier." The County Gentleman performed it in Japan back when it was just being released. They did three key changes in it when they sang it. They started in G, then changed to A, then to C. I can't sing as low as Waller, so we skipped the G, started in A and went straight to D. This is a full two frets higher than they sang it, but somehow Pap can still get the tenor. I don't know anything about who wrote it or any history behind it. As far as I know, they were the first to do it. I've never heard anyone else sing it. Mike Auldridge played the dobro on the original recording. They turned the reverb up wide open on his dobro so that it sounded like it was far, far away from everything else. It had a neat effect, I thought.
I hope you enjoyed the video and the Civil War history. Both accounts make an equally compelling story. I'm amazed at how information related to W.C. Penland continues to spider web out in all directions, interconnecting with one another until there they are–right here in 2015.
When discussing the conflicting details of Joel Thompson's burial, Don said "Regardless of where Joel is buried, I'm confident that his soul indeed passed through the Southland."
Tipper
p.s. To read an interesting discussion on the MudCat Cafe about the history of the song you can go here.