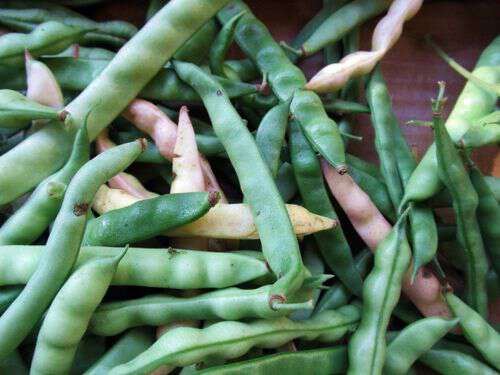 We've truly been in greenbean heaven this summer. Our Sow True Seed beans have really outdone themselves-and are continuing to do so. Granny said she thought I'd still be picking beans when the first frost laid this fall. I said "Well that will be just fine with me."
One of my friends recently told me even though she'd grew up eating fresh greenbeans from her parents' garden, she never took the time to learn how to harvest them nor how to cook them. I gave her a little tutorial of how I harvest and cook my greenbeans and thought I'd share it with you as well.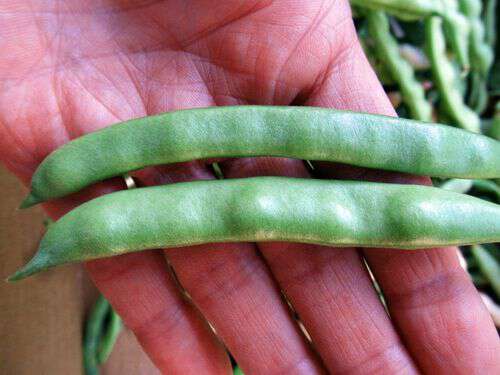 Look at these beautiful greenbeans!! If they all looked that pretty the stringing and breaking would be a breeze! But they don't.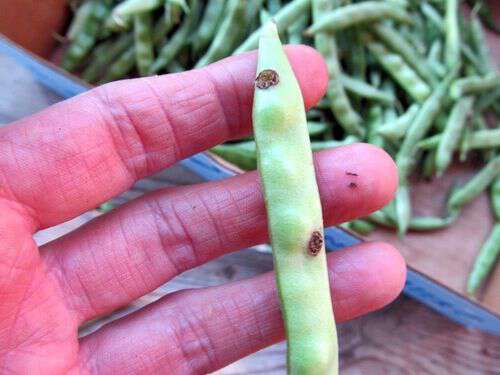 Sometimes the pod will have brown spots like this or even worse. I never worry about the spots when I'm picking beans. I grab every bean I see-leaving only the little ones that haven't developed fully.
Later when I'm stringing and breaking the beans I use a pairing knife to cut off most of the brown spots. I know I don't see every brown spot, and the ones I miss have never hurt us.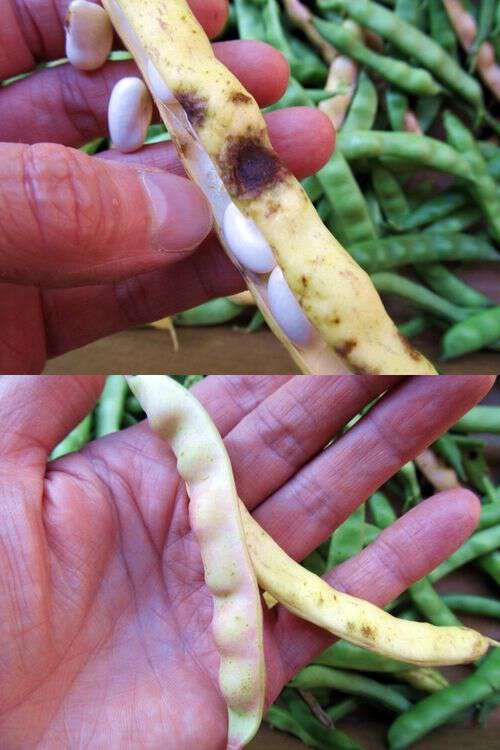 Sometimes the bean will look worse than the one with a few brown spots. Like the beans in these photos.
They've turned dry, yellow, and brown. When I find them I always wonder how in the world I missed them the previous picking. Greenbeans like to hide.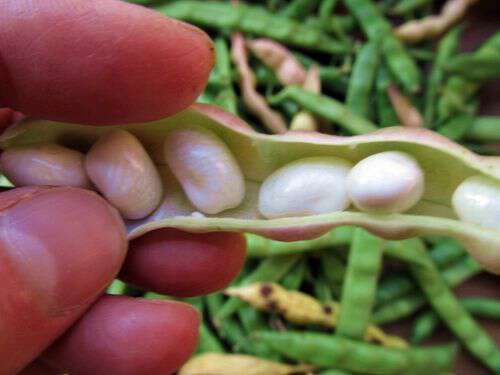 I pick those yellow/brown beans too. During the stringing and breaking process I discard the pod and keep the beautiful beans hiding in that yucky outer shell.
As the summer moves along, I have more and more of these types of beans. Granny said she always did like a pot of greenbeans with a lot of shellys in them. I do too. Having those shelled beans cook along with the rest seems to add a richness to the pot.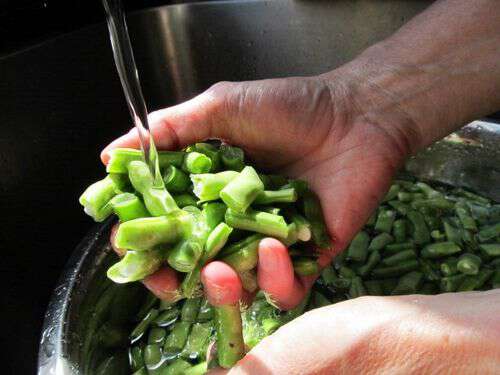 After I string and break my beans I give them a good rinse in cold water.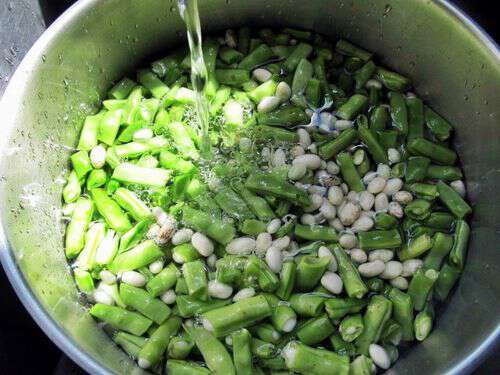 Rinsing the beans gets ride of any bugs, leaves, or other trash that might be hanging around.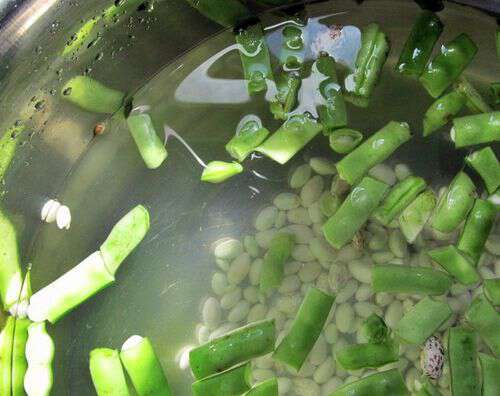 I place the rinsed beans in a pot and cover with water. I bring the pot to a boil and then rinse the beans again.
I know everyone doesn't do this step, but Granny taught me to do it this way. She said bringing them to a boil helped get rid of the bean scum (not sure exactly what that is) and made sure they were really clean before you cooked them.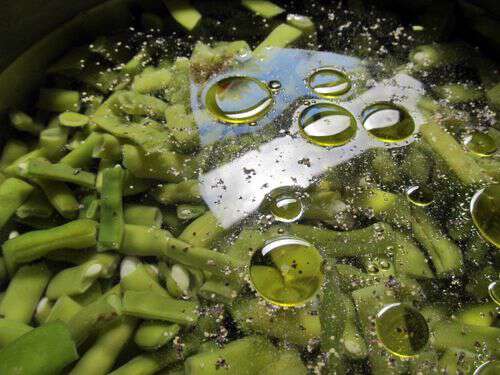 Cover the greenbeans with water again and now you're ready to cook them. Well almost.
First you need to find something to season the greenbeans with. Ham, fat-back, and bacon all come to mind.
But if I don't have any meat I season them with a small amount of olive oil, salt, and pepper.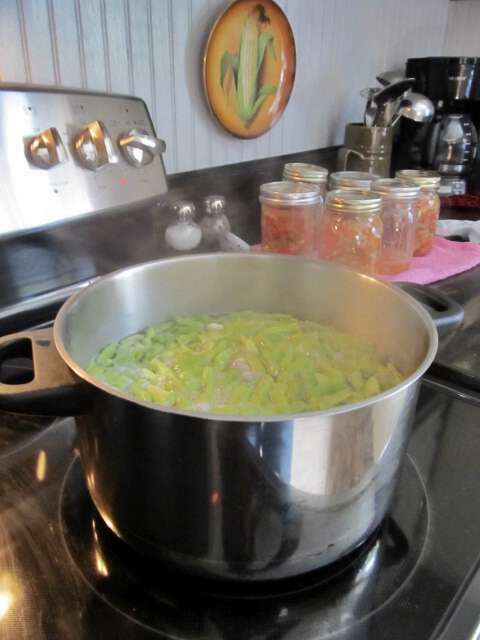 The amount of cooking time needed for a pot of greenbeans is also a personal preference issue. Granny cooks her's a long time and I like them. When I'm cooking greenbeans I let them go for about an hour or hour and a half.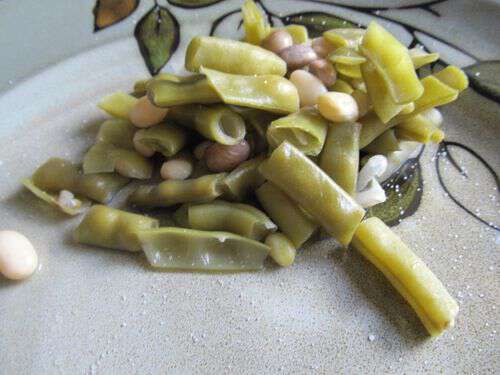 There are various ways, recipes, and thoughts about growing greenbeans, harvesting greenbeans, and cooking cooking greenbeans. As I told my friend, use these general guidelines and then figure out how you like to cook greenbeans: how you like to string/break them, what sort of seasoning you like, how much seasoning, and how well done you like them.
Would love to hear about your preferred way of cooking greenbeans, so leave a comment and tell me.
Tipper