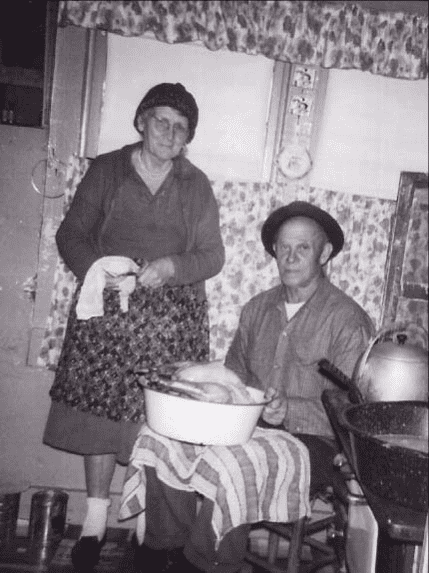 Granny Gazzie and Grandpa Charlie
Most of us will get our Thanksgiving turkey from the grocery store, Granny bought one for our dinner last week. In the old days if folks wanted to eat turkey they harvested a wild one themselves.
When I was growing up, there were very few wild turkeys here in Brasstown. I do remember Uncle Henry had tame turkeys one time-don't tell nobody but I was scared to death of them. I swear they were almost as tall as I was and every time I seen them they came running at me.
Seems like it was during my late teenage years that the wild turkey population increased enough for folks to start hunting them. I remember Papaw Wade got him a long black coat to wear and hunted turkey in the Coleman Gap. Said he was going to show the young boys how it was done, but I don't think he ever got a turkey.
The Deer Hunter has harvested quite a few turkeys over the years, however since turkey season is in the spring-all of his were eaten way before Thanksgiving rolled around.
The Dictionary of Smoky Mountain English has an interesting entry about catching turkeys in a pen.
turkey pen noun A large enclosure built to entrap wild turkeys.
1939 Hall Coll. Cataloochee NC How to build a turkey pen: You just build a square pen out of ten foot fence rails, and when you get the wall built, you build it up about three feet high, and then you cover the pen over with fence rails laid close together all over it, and then you go out back a distance from the pen, start a trench, shallow at first, and the deeper you go, get under the rail of the pen. Why, it's big enough for a turkey to walk under the bottom rail, but the trench then sloped out, up from the middle of the pen, and the turkeys walks through there, and they get inside this pen. They raise up and see where they're at. They get so excited that they don't notice the hole down there to go out back outside. (Sarah Caldwell Palmer)
Hard for me to imagine a place with so many turkeys you could catch them in a pen. In recent years, the coyotes have cut down the turkey population in this area-although I do still occasionally see turkeys in the cow pasture down the road.
I know everyone doesn't eat turkey for Thanksgiving, but for the Blind Pig family there's always a turkey on the table along with Granny's pumpkin pie and The Deer Hunter's dressing.
We'll be missing Pap something fierce at this year's big dinner. Granny said we have to get together and eat because Pap would want us to. I know she's right. Even though I get sad just thinking about it I can hear his voice telling me "Why don't worry about me. You ought to get together and eat till your bellys bust cause that's what I'd do."
Tipper