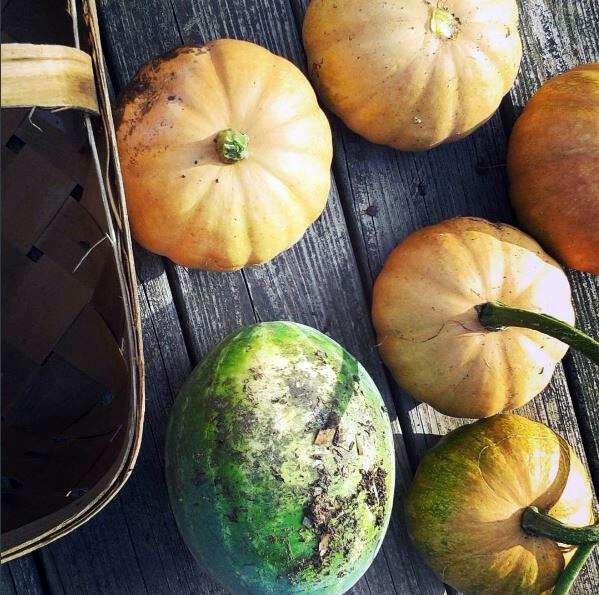 I'm most familiar with using pumpkins for pies, breads, rolls, roasted seeds, and decorations. I know folks used to eat pumpkin stewed as you would potatoes and that folks dried the pumpkin for using in soups and other things. While flipping through These Storied Mountains written by John Parris I came across an article he wrote about other ways folks in the mountains of Western North Carolina used pumpkin in days gone by.
Pumpkin Is More Than Just Pie by John Parris

Some mountain women make a pudding of boiled pumpkin. And some still make pumpkin molasses, which provided sweetenting in grandma's day. Back then the word "molasses" was used in the same way we use "syrup" today. When cooked for a long time in a large quantity of water, strained and the water further reduced by boiling you have pumpkin molasses.

Then there is pumpkin whiskey.

As knowledgeable old-timers will tell you, pumpkin whiskey is a heap sight easier to make than corn whiskey, and not as risky. All you need is sugar and a good-sized pumpkin. You cut a plug out of the top of the pumpkin, clean out the seeds and the pulpy mass to the meat. Then you pack the hollowed out pumpkin full of sugar, replace the plug, seal it with wax, and set the pumpkin under the bed or in a dark place. In a week or so the sugar has turned to liquid and you've got yourself a quart or so of whiskey.

The pumpkin, truly a symbol of autumn, is deeprooted in American Life.

In the early days, it was used stewed in soups, in stews, in pie and pudding. The flesh was dried for winter and early spring. The seeds were used as a delicacy. The early settlers here in the hills learned to grow them in their fields of corn. It was common practice 50 years ago to plant a seed of pumkin in a hill of corn. To the pioneers, the pumpkin was one of the most versatile of vegetables.

Pumpkin could be stored in the fall, down under the fodder bundles, and then served as a vegetable-peeled and boiled, it was then fried- through most of the winter. It could be dried, or freshly cooked, and put into the cornbread batter.

Most of us think of pumpkin pies when we see a wagonload of pumpkins or pumpkins sitting on the back porch or lying at the barn door waiting to be stored down under the fodder. But pumpkin is more than just pie. It is bread and a pudding, a butter and a molasses. And many a mountain family right now is savoring one or all of them.
————-
I hope you enjoyed the old article written by John Parris. His description of pumpkin molasses made me think of the old saying waste not want not. By simply using pumpkin and water they laid up good thoughts for the sweetness that would be added to their family's plates in the coming months purchased only by the work of their hands.
Tipper
*Source: These Storied Mountains: Pumpkin Is More Than Pie written by John Parris