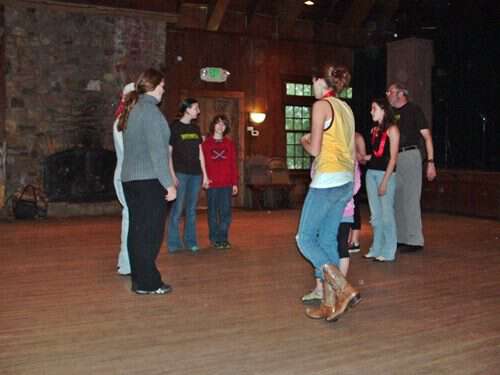 Contra Dance practice for Mountain Folk Festival
In yesterday's post, Bob Dalsemer described the different types of folk dancing that are performed at the annual Mountain Folk Festival in Berea. While the girls and I enjoy seeing all of the styles in action-the field narrows considerably when it comes to the ones we actually dance on a regular basis.
Contra Dancing and traditional Appalachian Clogging are the styles we are most familiar with. The girls have clogged on the John C. Campbell Folk School Clogging Team for almost 5 years-and the Folk School offers weekly and twice monthly community Contra Dances.
The first time we went to a Contra Dance, we discovered the best way to learn, is to partner with someone who knows what they're doing. One of the first people who helped us learn the steps was Robert Forsyth. Robert is one of the Folk School's Sticks In The  Mud Morris Dancers as well as an amazing Contra Dancer. I recently discovered Robert attended the Mountain Folk Festival in Berea during the 70s. After realizing folk dancing has played a role in most of Robert's life, I couldn't wait to interview him about the tradition of folk dancing.
How old where you when you first started folk dancing?
I was around 16. I became friends with newly arrived Thomas Kelischek at Murphy High and later began to date his sister Sabine. I was a close friend of Martin Ramsey, who was the son of the director of the Folk School. It was c1971.
Did you come to the folk school on your own or through a school program?
All of these guys danced, so I really had no choice but to dance. I never, ever, never, ever would have otherwise. I was too shy/conventional/nerdy to even consider such a thing, but it changed my world. Sure I was still s/c/n, but dancing opened my mind to new things and gave me confidence.
Did you ever go the the Mountain Folk Festival at Berea?
We had been drilled in Cotswold Morris and English Country Dance by then JCCFS Director John Ramsey, who led the trip to Berea where we competed against other teams, and won first place. Our team included Martin and Lauren Ramsey, Mike, Thomas and Sabine Kelischek, Robert, John, James, Jennifer Anderson, Mike Honeycutt, and others.
I know you didn't dance for many years-what brought you back to it?
When I graduated from Murphy High and left home for college, like many small town kids I "swore I'd never be back." After college I lived in Atlanta for 20 years. My good friend and Folk School CFO at the time, Phil Mattox, kept trying to get me to come to a Saturday dance. He finally wore me down on one of my visits home in 1995 and I was hooked all over again.
In the years since you started dancing again, have you noticed an increase in the popularity of folk dancing?
Contra Dancing has bloomed from an isolated curiosity to a national phenomenon. There are more callers, more bands, more dancers, and more places to dance. There are dances in every  major city in the country now, and it is possible to drive to a dance every night of the week (and we have). I like to call it the coolest thing that most folks don't know about.
Do you think it's important for programs like Mountain Folk Festival to continue-do you think it's important for the older generations to encourage the youth to participate in folk dancing?
I love the difference that dancing has made in my life, the friendships I've made, and the community I now share…all because I had the opportunity to dance in my youth. And that opportunity was only there because someone was taking the time to care enough to do the hard work to make it happen. I am forever grateful to the Ramsey's and the Kelischeks, and I'm proud that current Director of Dance at the Folk School, Bob Dalsemer, is carrying it on. I know it's a good thing because I can see it on the faces of these young dancers.
I hope you enjoyed the interview with Robert Forsyth-Folk Dancer Extraordinaire. For those of you, who don't have a clue what Contra Dancing looks like-here is a video made during Summer Dance Week at the John C. Campbell Folk School.


So have you ever been Contra Dancing? Are you familiar with other styles of folk dancing?
Tipper