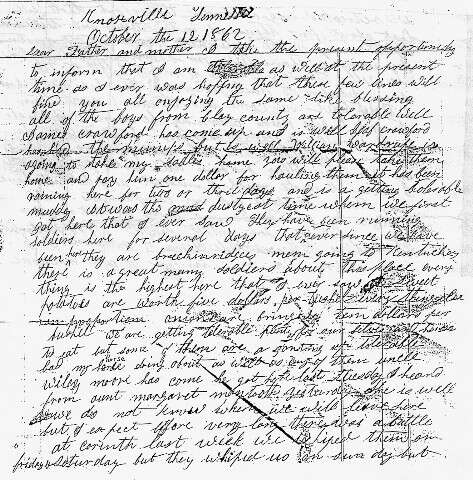 Time to check in with our Civil War Soldier W.C. Penland.
July 19th 1863
                       Sweet Water Monroe Co.  E  Tenn
Dear Father and Mother    I now set myself to write you a few lines in answer to your letter which came to hand some time ago   but there has been a good deal of passing lately but they always started with so little warning that I did not have time to write   I can say to you that I am well at this time and have been ever since I wrote to you   There is a good deal of sickness at this time   John Sherman, S. V. Ledford, Eli W. Lewis, J. P. Cherry are all gone to the hospital at Louden   Andy Carson, J. M. Ownby and H. P. Ownby are all sick besides several others to tedious to mention   Mark Auberry that was left in Kentucky sick came to camp yesterday morning   the Yankees took him and parolle him   he started home yesterday with A. L. McConnell    there has been a talk of several of our men a getting to go home soon but I do not know whether they will get off or not   there is a fine crop of wheat in Tennessee this year   the citizens says that there is the best looking prospect for corn that there has been for some years   my horse is a mending some now   I will send him home the first chance that I have   the boys that went yesterday took some horses and could not take any more or I would have sent him by them   my mare looks very well at this time   there is several of our company at Wattsburgh on picket and have been ever since we come from Kentucky   Lieutenant Virgil Barnard & R. V. Alexander are there with about 16 men   we are a looking for Samuel H. Allison to come into camp now every day   he has been gone a good deal over his time now   I would be very glad to see him come for I think that I will surely get a letter when he comes from home   I am anxious to hear from there now for I have heard that there is a good deal of sickness in that country this Summer   I want you to write to me what has become of A. E. Pendergrass   it is a mistake about Big Jason being shot for deserting he was taken by the Yankees at Wattsburgh by the Yankees   I saw Newton Gibson   he stayed with us night before last a going to his command below Sweetwater   I want you to have me a good pair of Boots made by fall and send them to me for boots can not be had here for less than 50 per pair and I do not expect that they are very hard to get there   but I want them if they can possible be had   I would like for you to come down and see us all and see how we are a coming on and if you can not tell Mr. Sherman or J. H. Penland one or both of them to come   I forgot to state that J. H. Ledford was terrible bad off and has been for several days   I will bring my few lines to a close by saying write soon and often   give my respect to all enquiring   Direct your letters to Sweet Water and as before excuse bad writing and composure   So no more at present but remains your Son as ever
                                        William C. Penland
To H. M. & P. M. Penland
PS   write to me whether you know where Uncle Chamberlain is or not   I have not had a letter from Mr.  E. M. Scroggs now for a long time   he did not answer my last letter   I do not know what is the reason of it   W. C. P.
—————————-
Things I noticed in this letter:
A few new names among the ones he mentioned from home.
He must have 2 horses-wonder if he's had 2 the whole time?
He is anxious for word from home-he's worried they may have been sick.
I would like to have known Big Jason-W.C.'s mentioned him so many times he must have been a character that everyone at home was familiar with.
The line-Write soon and often tugs at my heart.
I'm wondering if E. M. Scroggs is from the Scroggs family of Brasstown.
Leave me a comment and let me know what you noticed.
Tipper