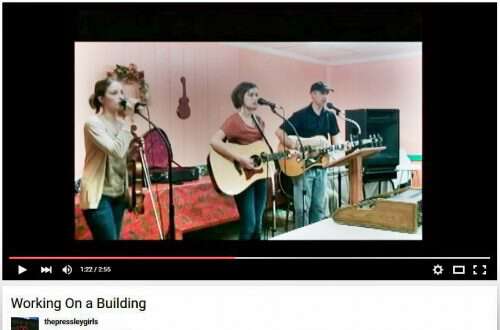 Over the years many people have covered the song I'm Working on a Building. The list includes: The Carter Family, Bill Monroe, Marty Stuart, Jimmie Davis, Old & in the Way, and too many local performers to name.
The song is generally said to be a traditional song-meaning no one knows who actually penned it. It is often listed as a Negro Spiritual. And as with many traditional songs, the actual lyrics vary depending on who's singing it…or in our case what day we're singing it.
To add to the confusion there is another song with a similar title and a similar tune: Working on the Building written by Lillian M Bowles. You can hear a version of the Bowles song performed by none other than Elvis here.
Its easy to see why the song we do-Working on a Building has continued to be popular in southern gospel and bluegrass gospel circles after so many years. The words are repetitive and catchy with the tune being a real toe tapper.
I've actually posted videos of us doing the song 2 other times here on the Blind Pig and The Acorn.
Our first arrangement of the song was with Pap, Chatter, and Paul doing the singing. The song is always a crowd pleaser and with shows already booked right after Pap broke his hip in May of 2015 Chitter took over his part so that was our 2nd video.
We're still doing the same arrangement as we were in the 2nd video and the audience and I are still loving the song. And Chatter and Chitter are still entertaining themselves by making up their own verses to the song. Things like if I was a crystal meth cooker I'd tell you what I'd do I'd quit my cooking and I'd work on a building too. Life is never dull with them two.
Hope you enjoyed hearing the song again!
Tipper