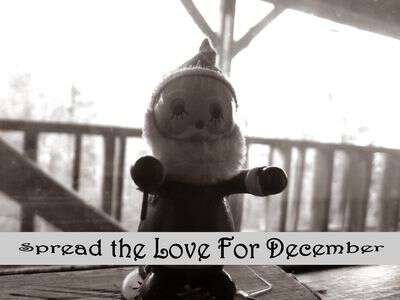 Time to Spread The Love for the month of December. This month you've dreamed in the kitchen, been introduced to Nancy Simpson, celebrated the release of Paul and Pap's Christmas cd, looked back at Granny's Christmas trees, made sideburn cookies, went back in time to walk to the folk school in 1938, told it on the mountain, helped Break Up Christmas, and dropped a possum-all with me.
So from the foggy cold mountains of Southern Appalachia I'm sending a great big THANK YOU to all the Acorns for making the month of December great here at the Blind Pig.
Miss Cindy, Brit, Dana, Amy, Paula, Leslie, Jennifer in OR, Renna, Trisha Too, Noble Pig, Osagebluff Quilter, Egghead, Beckynsc, Threecollie, Granny Sue, Valarie Lea, Debbie, , Cathy, Farm Chick Paula, City Mouse Country House, Razor Family Farms, GA Farm Woman, Dejoni, Mary, Farmchick, Michelle, Julie at Elisharose, Carolyn A., Marlene, The Joy of Christina, The Texican, Mark Salinas, Sarah RSM, The Fishing Guy, Dee from Tennessee, Lisa, Sandy Carlson, Petra Michelle, wkf, Linda, Mary-Life In A Cordwood Cabin, Matthew Burns, Kristi, TenZen, Janet, The Tile Lady, Stacey, Helen G, Rhonda, Teresa Atkinson, Terry, Christina Bumblee Bee Bags, Patty Hall, Ginger, D, Lanny, Sandra, Malcolm Hampton Burgess Jr., Just Jackie, Tracie Burgess Gibbie, Paul, Carrie, Stacey,  Trainwreck, Toni, Denese, NancySimpson, Joan, Janera, DawnDee, Warren, David Templeton, Glenda, Kathleen, Lisa Otis, Tammy, Yolanda, Jan, Solstice Dreamer, Laura-Jane-Whimfield, Vera, Brenda S., Brenda KayLedford, Brenda, Shirley, and Apple.      
The prize for December's Spread the Love-one of Paul and Pap's Christmas cds. And the winner is…
Toni from Raising Eden! Just think Toni-you're already ahead of the game for Christmas 2009!
Good news on the pickin' & grinnin' front-Paul's latest cd is almost ready. I've added a few of the songs on the player-hope you enjoy them! And we want to send a special thank you to all the folks who purchased Songs Of Christmas. We were very pleased with the response-seems you folks know good music when you hear it! 😉
Tipper