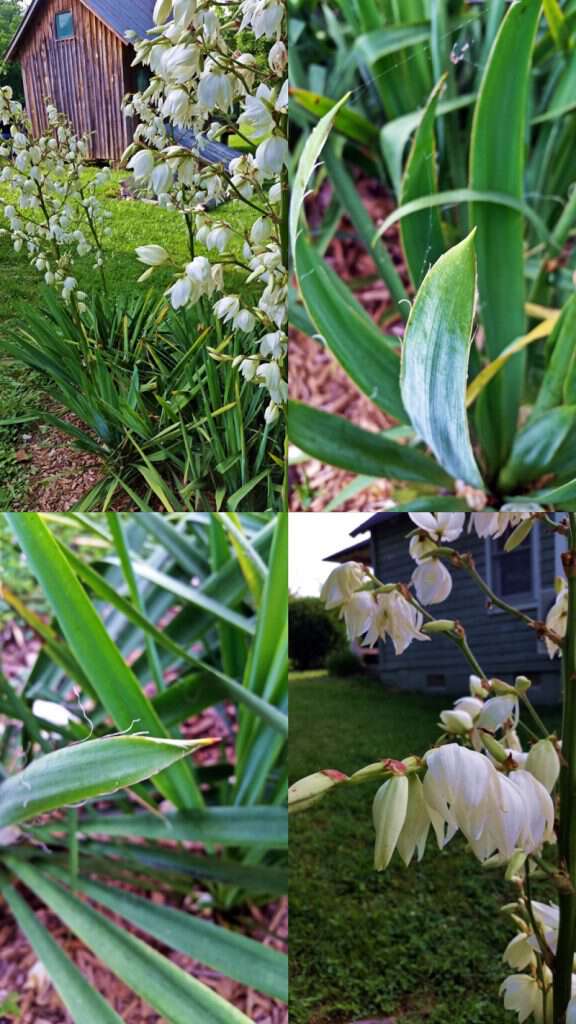 Miss Cindy's blooming Adam's needle
Adam's needle noun A yucca plant (Yucca filamentosa or Yucca smalliana). Cf bear grass.
1940 Caton Wildflowers of Smokies 65. 1964 Stupka Trees Shrubs Vines 32 During some years Adam's needle begins to bloom at the end of May. [from the sharp points on the yucca plant]
Dictionary of Smoky Mountain English
—————————–
I thought I remembered Don Casada telling me the yucca plant could often be found around old homeplaces. I sent him an email and asked if my memory was correct and he sent me the following information.
"Yes, yucca is often found at old home places and at cemeteries. I know there's yucca at the Hannah cemetery over in Little Cataloochee, and it seems like there might be some at the Little Cataloochee Church cemetery as well. I've heard that the leaves were used for hanging hams to cure. That's certainly believable – the stuff is really tough and fibrous. There is some in the Bryson City Cemetery, and a grass trimmer won't cut it – the stuff just sort of shreds. The stuff pops up in unexpected places, and once it has a foothold, it is hard to get rid of.

I've found it growing at quite a few home sites, usually accompanied by other plants like boxwoods, iris, japonica (flowering quince), yellowbells, mock orange, daylilies, daffodils, etc. There is one place where I found a few scattered plants that was well away from a home. You may remember that there was no yucca at the Casada home on Juneywhank Branch; the non-native plants there are mock orange, japonica and day lilies (Daddy called them cow lilies). But probably a quarter of a mile or more away, in a holler off to the NE of the home and well away from where there were any buildings, there are a few isolated plants. The leaves on them seem sparser and maybe a little smaller than on others I've found. It sort of makes me wonder if they might be native. The USDA map below indicates they are native to NC, but if they're native to the mountains, they're sure not common (except at home sites), at least in my woods-wandering experience."
Granny never had any Adam's needle growing around our house. She said they were too sharp and she was afraid someone might get cut on them. Miss Cindy's house has them growing in several areas and her house was built in 1937 so that goes along with the old homeplace connection. I wonder if the common name Adam's needle was used not only because of the sharpness, but also because of the thread like fibers that are on the sides of the sword like leaves.
Tipper