Today I'm going to share more information surrounding the story of Grooms Tune that I posted last week here on the Blind Pig. Most of the additional information came from Intrepid Smoky Mountain Researcher Don Casada.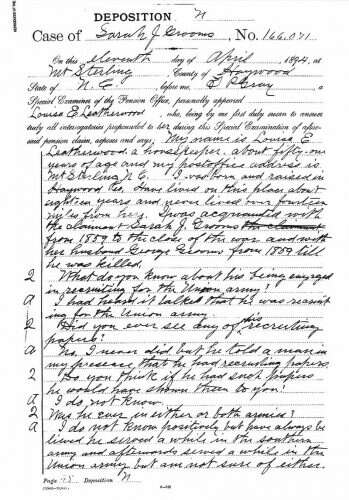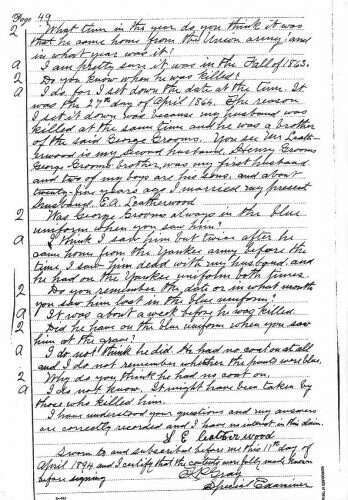 Don discovered a deposition from Louise E. Leatherwood, the wife of Henry Grooms, who is said to be the one who played the fiddle-at lease some folks say that. The deposition was posted on Ancestry.com by Wilma Flowers. Louise E Leatherwood's testimony relates to a pension application by the widow of her brother-in-law, George. Her deposition has the date of the killings as April 27, 1864, not the April 10, 1865 date listed in the findagrave reference I shared last week.
————————
Deposition
Case of Sarah J Grooms, No. 166071
On this eleventh day of April, 1894, at Mt. Sterling, County of Haywood Stat of N.C., Before me, ? ? Gray , a Special Examiner of the Pension Office, personally appeared Louisa E. Leatherwood, who being by me first duly sworn to answer truly all interrogations propounded to her during this Special Examination of afore-said pension claim, aeposes and says:
My name is Lousisa E. Leatherwood, a housekeeper about fifty-one years of age and my postoffice address is Mt. Sterling N.C. I was born and raised in Haywood Co. Have lived on this place about eighteen years and never lived over fourteen miles from here. I was acquainted with the claimant Sarah J. Grooms from 1859 till the close of the war and with her husband George Grooms from 1859 till he was killed.
What do you know about his being engaged in recruiting for the Union army?
I had heard it talked that he was recruiting fro the Union army.
Did you ever see any of this recruiting papers?
No. I never did but he told a man in my presence that he had recruiting papers.
Do you think if he had such papers he would have shown them to you?
I do not know.
Was he ever in with or both armies?
I do not know positively but have always believed he served a while in the southern army and afterwards served a while in the Union army but am not sure of either.
What time in the year do you think it was that he came home from the Union army? And in what year was it?
I am pretty sure it was in the Fall of 1863.
Do you know when he was killed?
I do for I set down the date at the time. It was the 27th day of April 1864. The reason I set it down was because my husband was killed at the same time and he was a brother of the said George Grooms. You see Mr. Leatherwood is my second husband. Henry Grooms, George Grooms brother was my first husband and two of my boys are his sons and about twenty-five years ago I married my present husband E.A. Leatherwood.
Was George Grooms always in the blue uniform when you saw him?
I think I saw him but twice after he came home from the Yankee army before that time I saw him dead with my husband and he had on the Yankee uniform both times.
Do you remember the date or in what months you saw him in the blue uniform?
It was about a week before he was killed.
Did he have on the blue uniform when you saw him at the grave?
I do not think he did. He had no coat on at all and I do not remember whether the pants were blue.
Why do you think he had no coat on?
I do not know. It might have been taken by those who killed  him.
I have understood your questions and my answers are correctly recorded and I have no interest in this claim.
L.E. Leatherwood
Sworn to and subscribed before me this 11th day of April 1894 and I certify that the contents were fully made known before signing. ?? Gray
Special Examiner
————————
Don also discovered the military record at the top of this post. The record belongs to George Grooms and is dated 1893 while the pension deposition is dated 1894. Don pointed out there's also a 5 day difference in the death date in the record and the deposition, but said that could easily be explained by the misreading of a 7 for a 2.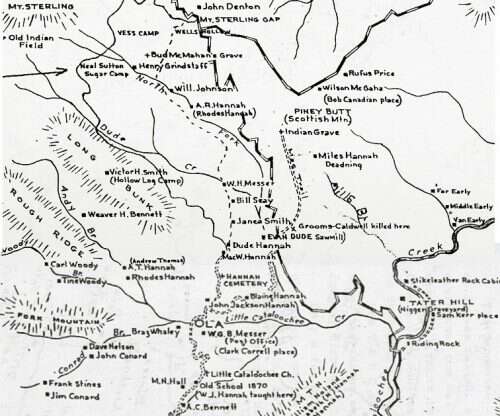 In addition Don discovered a map drawn by Junior Ball which marks the location of the killings. The book Cataloochee: Lost Settlement of the Smokies written by Elizabeth Powers and Mark Hannah, quotes Sage Sutton to say "The men killed at the Indian Grave Branch was named Henry and George Grooms, and one named Caldwell. My father took an ox-sled and hauled their bodies out, and the were buried in the graveyard near Kim Sutton's place, where my father lived at the time."
Don pointed out the discrepancy between the date on Mitchell Coldwell's (he was the third man killed that day) tombstone (1863) and the date Louisa Leatherwood gave in her deposition – in which she said she "set down at the time" as April 27, 1864.
————————
Read this information sent to me by Cody Marie Phoenix to add even more confusion to the story:
"I just found your web page and read the story about the Grooms Tune. Some of the information is inaccurate as the 2 Grooms men were my mother's great great grandfather and uncle. The 2 Grooms men that were shot were George (our grandfather) who was the fiddle player and his brother Anderson Grooms. Henry Grooms and his wife Elizabeth Arrington Grooms were the parents of George and Anderson. They were all Unionist but didn't fight in the war. George and Anderson's brother Adolphus was in the Confederacy and friends with Teague but no one is sure if he was there that day when his brothers were killed. There is a book written about Haywood Co., NC that lists George and Anderson as the Grooms men but they have Anderson as the fiddle player. My great grandmother said they had it wrong too, it was George. ;-)"
Don's research shows us George for sure served-but who knows if what she says about the fiddle player being George is true? I mean it has been a long time!
Then there's this blog post on the website Ruminations from the Distant Hills published in April of 2007:
"For whatever reason, Henry Grooms, his brother George and his brother-in-law Mitchell Caldwell, all of north Haywood County, North Carolina, were taken prisoner by the Home Guard. The group traveled toward Cataloochee Valley and Henry Grooms, clutching his fiddle and bow, was asked by his captors to play a tune. Realizing he was performing for his own firing squad Grooms struck up Bonaparte's Retreat. When he finished the three men were lined up against an oak tree and shot, the bodies left where they fell. Henry's wife gathered the bodies and buried them in a single grove in Sutton Cemetery No. 1 in the Mount Sterling community, the plain headstone reading only "Murdered."

Now this account of the story was attributed to a Geoff Cantrell article in the Asheville Citizen-Times (February 23, 2000). Grooms family member Bettie Tanana, however, tells the story differently:

George was forced to play Bonaparte's Retreat (later called Groom's Tune which can be found on the internet). Mitchell, according to Archives records, was an idiot and was told to put his hat over his face before he was shot. All three men were buried in a common grave. George was my great great great grandfather. My great great grandmother signed an affidavit stating that when she found her father's body his fiddle was found at his feet.

Some of Teague's men were also deposed verifying how the murders occurred. (I have copies of these records.) Most of the men in Teague's Homeguard were older men and neighbors of the men they shot. They even continued to live as neighbors after the war. Incidentally, another great great great grandfather, Henry Barnes was also found several miles away killed by Teagues Homeguard. His daughter, Amanda, married George Groom's son.

I had no idea that this scene was going to be in the movie Cold Mountain. I wanted to stand up and cry through my tears that that was my family being killed."
————————
The last tid-bit I have to share with you surrounds the fiddle. I think I mentioned before that Dolly Parton is said to be a descendant of the Grooms men and that the fiddle from the event is now on display at Dollywood. Last week Doris Noland Parton left this comment with the image above on the Blind Pig and The Acorn Facebook page:
"I am the person who figured out that the fiddle in Dolly's museum is probably this fiddle. Her family calls it the Solomon Grooms fiddle. It came down from Grooms to Messer to Owens on her line. It may or not be the exact fiddle, but I think it is likely. Here is how Dolly is related to Henry Grooms. She joins in Henry's parents. The two Grooms brothers who were killed had a brother Solomon Grooms so I am guessing that he got the fiddle after they were killed."
—————–
The event is such a compelling story that one can see how the exact particulars of the story may have been mixed up or changed slightly between when they happened and now-over 150 years. I'm sure some of you researchers may have other records or information to add to this post-if you do please leave a comment and let us know what you found.
Be on the look out for the post about our trip to the Cattaloochee Turnpike where we believe the event took place.
Tipper