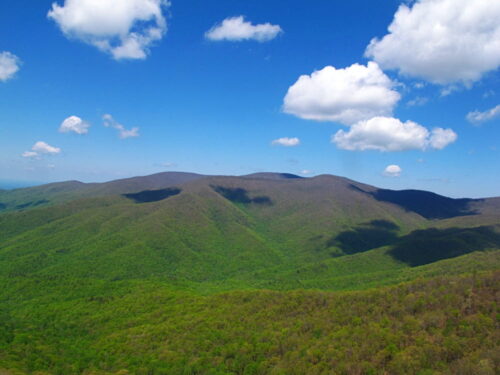 Photo by Don Casada: taken from Shuckstack fire tower looking NW towards Gregory Bald. The drainage coming down from the middle right to lower left is Twentymile Creek.
The ridge just left of center that descends down to the creek which is leafless on top and fairly advanced on its lower end is Long Hungry Ridge.
One of my favorite aspects of greening up is the up part here in the mountains. You need to be at a place where you have a view of a mountainside with a couple thousand or more feet of elevation range. Down at the lower elevations, the trees will have taken on their dark summer hue. The shade of green grows lighter and lighter as you look up the mountain until there's but a faint hint of green that's taken holt in the warm pocket on the south face of a hollow.
Above that, occasional splotches of white-pink from sarvis blooms or maple seed reds show all the more brightly against the unashamed naked browns and grays at the higher elevations.
How sad it must be to live in a city surrounded by things made by man.
Flowers springing, birds singing, mountains greening, and the gloaming lingering are reminders that in spite of all the craziness in this world, the One who made it is still in control, as Robert Browning asserted a couple of centuries ago:
The year's at the spring,
And day's at the morn;
Morning's at seven;
The hill-side's dew-pearl'd;
The lark's on the wing;
The snail's on the thorn;
God's in His heaven –
All's right with the world.
—Don Casada 2016
---
Like Don I enjoy looking at the green as it moves on the mountains, but I also enjoying noticing the first leaves from my favorite place to sit in the livingroom.
When the first hint of green appears out the window I can almost believe if I watch closely I can count the leaves as they unfurl, but that never happens. I notice the creeping green until suddenly one day I look through the glass and see a world of green and realize the trees have all put on their summer garments.
Last night's video: Eat Dandelions: They're one of the Super Foods, They're Free, and They Taste Great!
Tipper
Subscribe for FREE and get a daily dose of Appalachia in your inbox