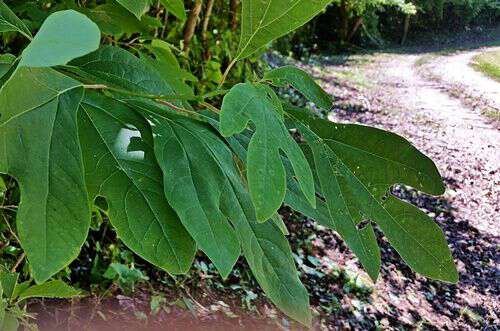 "Drink sassafras tea during the month of March and you won't need a doctor"
—Old mountain saying
Sass Tea? My Lord, yes we made it!" Frank Pressley, hardy scion of the western North Carolina mountain country, was remembering the heady "growing-up" days of his youth on four-thousand-foot-high Cullowhee Mountain.
"We'd get the roots of the sassafras, and my mom would boil it for medicine. Some people liked to drink it as a tea. They all said it would thin the blood and refresh the spirit. But to me, that dark red drink had a sickening taste."
Sassafras tea is still popular across the Appalachian South. Dick Frymire of Kentucky is one of its great advocates. He says that not only will sassafras tea pick you up, chewing on a sassafras root will calm you down. Besides that, Frymire claims the versatile wild root will whiten your teeth! And to top it all, sayeth Mr. Frymire, if you want to give your flower plants more vigor, sprinkle some strong sassafras tea on them.
The hardy pioneers pouring down the Great Philadelphia Wagon Road to settle the Appalachian used many plants, leaves, roots, and barks for hot and cold beverages. But sassafras was the most popular.
There was a little ditty used to promote  the sassafras tonic in earlier days:
In the spring of the year,
When the blood is too thick,
There is nothing so fine
As a sassafras stick.
It tones up the liver,
And strengthens the heart,
And to the whole system
New life doeth impart.
—Excerpt from "Smokehouse Ham, Spoon Bread & Scuppernong Wine" by Joseph E. Dabney
—-
Pap and Granny never made any sassafras tea that I can remember. For the past several years we've played at a Cherokee Festival held in Marble, NC. There's always a gentleman there with sassafras tea. I make sure to get a cup of his tea before we play.
Tipper
Subscribe for FREE and get a daily dose of Appalachia in your inbox