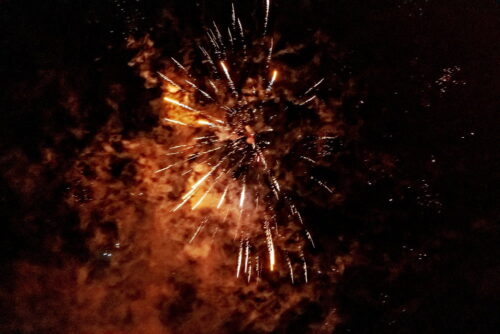 On Monday morning I was sitting at my computer working. Chatter had come over to help me with some things and Chitter was on her way home from a trip.
We heard what we thought was something getting blowed to kingdom come! After wondering what in the world it was I told her maybe your sister is home and since I had the window open it just sounded funny when she slammed the car door. Chatter said "No way that was a car door."
My next thought was it might have been something on the porch falling over. We went outside and looked around but didn't see anything wrong so we promptly forgot about it.
Several hours later we walked down to Granny's and the first thing she said was "Did you hear that explosion? I was sitting out on the porch and it sounded like it come from up in the woods there."
We told her we did but didn't have a clue what it was.
Not long after 9-11, I believe it was the very next fourth of July, I was sitting at my computer one night and started hearing all sorts of distant explosions. The sound was like continuous rolling thunder. The girls were already asleep and The Deer Hunter was watching tv. I went to see if he could hear the spooky sounds. He said "I don't know what's going on but something is getting blowed up!"
In those days I did what I always did when I was worried about something I called Pap.
As soon as he said hello I said "Do you hear that?" He said "Yes, sounds like someone is blowing something all to hell." He went on to tell me he hadn't heard noise like that since his military days.
Phone calls were going from house to house throughout the holler with everyone wondering what was going on. Finally my Uncle Henry solved the mystery.
Henry had a scanner at home because he was often on call to fight fires.
It came across the scanner that the fireworks show over in Young Harris GA had gone awry. No one was injured, but somehow the fireworks were compromised and detonated all at once instead of one at a time.
I had forgotten about the Monday explosion Chatter and I heard until I read online that many folks in our area heard the noise too. Turns out it was a sonic boom created by SpaceX entering the atmosphere from its recent trip to space.
When I was telling the girls I figured out what it was The Deer Hunter said he heard it in Murphy, and thought it was a transformer blowing up.
Last night's video: 20 Year Old Recording from an Appalachian Holler | I'll Be All Smiles Tonight.
Tipper
Subscribe for FREE and get a daily dose of Appalachia in your inbox