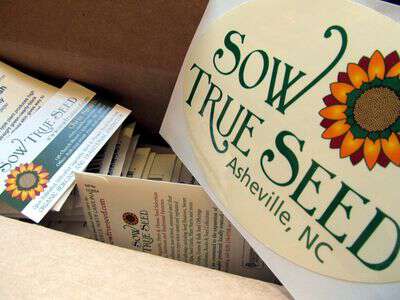 It was a chilly 5 degrees when I left for work Friday morning. After work I had to run to Hayesville and I was amazed by the frozen features I saw along the way. There were icicles hanging from branches, frozen waterfalls cascading down road banks, and every patch of dampness had turned itself into an ice skating rink.
After my errands were completed I headed home looking forward to stretching out by the heater to soak up the warmth. Little did I know sunshine and hot weather were waiting on me too.
My Sow True Seed arrived on one of the coldest days of the year. As I looked through the box and dreamed of the coming summer garden I swear I felt the warm sun on my bare arms and smelled freshly turned dirt.
Sow True Seed has signed on to sponsor the Blind Pig & the Acorn garden once again this year-and I couldn't be happier. Their seeds are top notch-if you've never visited their website-click here to jump over and browse. Sow True Seed offers a large selection of open-pollinated, non-hybrid, and GMO-free seeds. The company features heirloom and certified organic seeds-many of the varieties have been grown in western North Carolina for generations.
The great folks at Sow True Seed have asked me to deputize Blind Pig & the Acorn Squash Reporters @ Large this year. So if you like to grow squash and want to try a new variety-be on the lookout for more details.
Tipper
Appalachia Through My Eyes – A series of photographs from my life in Southern Appalachia.