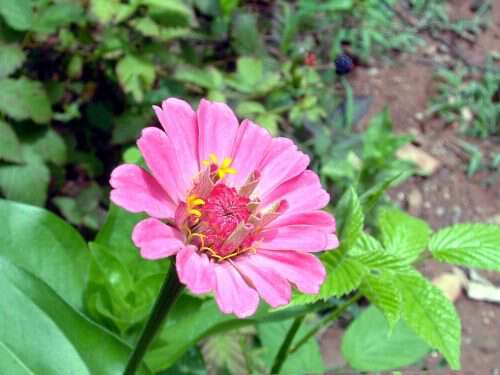 As I've walked through my yard over the past few days I've seen great beauty-like White Lilies that smell soooo good, Zinnia Blooms, Fire Orange Marigolds, Alums, Nasturtiums and various shades of Pink Phlox. But amid all the beauty-something evil is lurking in my yard-something so mean, so destructive that it actually…pulled up my corn!!!
Whatever the evildoer is-it pulled up all of my corn-except 2 stalks-both of which were planted on the 'good' day for planting corn-so there goes my test.
The Deer Hunter thinks it was a crow-I don't. I know crows will pull up corn-and simply lay it to the side-but I don't think they dig holes too. Whatever pulled up my corn dug a neat little hole under each stalk. I think it was the little cutie pie chipmunks that run crazy through my yard when they think no one is looking.
Even though my luck has taken a bad turn-I'm still holding out hope for all the other corn participants-Nancy, Becky, Martina, Rick, WKF, Helen, and Warren.
The Evil Corn Puller Hole Digger is the only problem we've had with garden pests this year-what about you?
Tipper