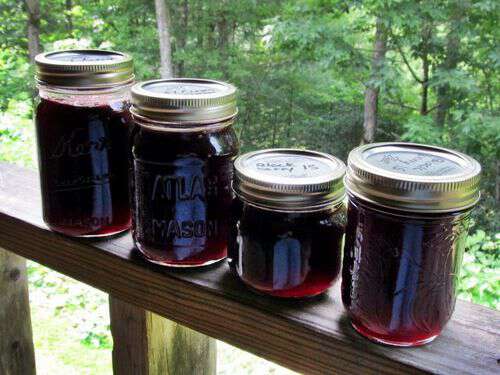 Blackberry-is by far my favorite kind of jelly. I remember eating peanut butter and blackberry jelly sandwiches as an after school snack when I was a kid. Sometimes I'd swear someone else ate the other half of my sandwich since it was so good it disappeared way too fast.
I make Blackberry Jelly every year-I've always used Sure Jel/Pectin in my jelly making but wanted to give the old way a try and see if it was indeed better.
First I looked my berries-rinsed them off in the sink and picked out all the leaves. I put them in a pot on the stove-added water until it barely begin to come up to the berries and cooked them about 20 minutes.
Next I poured the berries into an old flour sack (cheese cloth or an old pillow case would work too) and tied it on a broom over a pot to drain the juice out. After I had gotten all the juice from the bag-I put it back on the stove and brought it too a boil-boiling 10 minutes.
Next I added sugar. I followed the directions from the Foxfire book which said to add one cup of sugar for each cup of blackberry juice. This made the jelly very very sweet. If I make it this way again-I'll cut back on the sugar by half.
I brought the sugar juice mixture back to a boil. This is where I ran into trouble. Granny told me you have to boil it a long time to get it to set-and I remember her having to pour her jelly back in the pot and boil it some more when I was a child. What happened? I boiled mine way too long-I ended up with a rock hard mess-I mean you could lay blocks with it.
On my second try-I used my instincts instead of worrying about how long to boil-I watched the consistency of the jelly and when it begin to jell on my saucer (like in the picture above) I called it done. And it was.
Next comes putting the jelly in the jars. I use the open kettle method-which means-you have your jars, rings, taps, and jelly all at boiling temperature-and then you fill the hot jars with the hot jelly attach the hot taps and rings-and let the heat seal your jars. I know this method isn't recommended by some canning/preservation authorities-but it's the method my family and The Deer Hunter's family have used for the last 20 years and it works for us.
After filling the jars-I turn them upside down for about 5 minutes then turn them back right side up-and cover with a towel to hold in heat. Then I listen for the wonderful sound of popping lids to let me know they all sealed.
My thoughts after trying the old fashioned way of making jelly:
*The first batch-tasted better because I started with fresh berries-but I ruined it by cooking it too long. I should follow my instincts instead of worrying about a set recipe.
*The second batch I made from juice I had in the freezer from last summer. It turned out beautiful-but a little too sweet. Next time I'll cut back on the sugar.
*Using pectin/Sure Jel is an easier method for someone like me-who likes specific directions. But I am glad I tried and conquered the old time way-even if it did take me 2 tries.
So have you ever made Blackberry Jelly the old time way?
Tipper