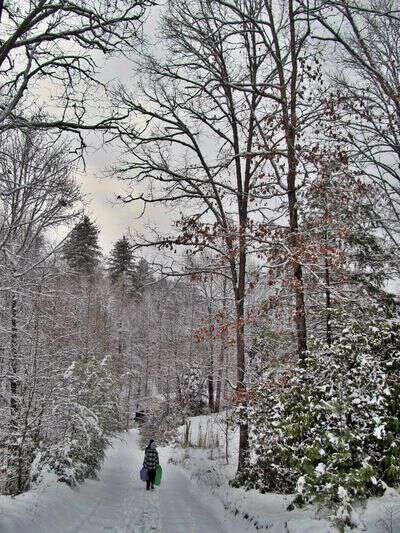 Our snowy driveway 
Well, I finally got enough snow to cover the ground!
By the end of yesterday, we had a good 4 inches. Plenty of snow to blanket the yard in white, go for a sled ride or two, make a snowman or 2, and eat a bowl full of snow cream.
Over the last 2 weeks, the word SNOW has been on everyone's mind in the southwestern corner of North Carolina. Not because we've been inundated by snow like the folks up north. Nope the whispering of the s word has been in total anticipation of what might happen.
If you've been a Blind Pig reader for a while you know about my great love for snow. My cousin Clint teases me about my fondness for snow. See he lives where there's snow all winter long-which means his family just keeps on going. Life doesn't stop for them like it does for us down here.
I've always been the one hoping for a big snow. When I was a kid and snow was forecasted I kept my fingers crossed and my toes too! As soon as I woke up I ran to the kitchen turned on the porch light and looked out the square windows on Granny's front door to see if the forecasters were right on the money or if they had left me holding the bag wishing I had done my homework like I was supposed to.
Pap had to get out in the snow. His regular job was delivering oil to folks and it seemed like they always needed oil when the cold and snow came blowing in. I felt sorry for him having to get out in the snow, just like I feel sorry for the folks today who have to get out and about when bad weather hits. I'm especially thankful for those who stand in the gap, keeping us safe.
I have no doubt that if I had to endure snow for months at a time I'd change my tune. I can't imagine what people in the Boston area have had to deal with this winter.
But here-snow means no school; jogging pants, sweatshirts, and toboggans; your friend calling you at 4 am to tell you it's snowing to beat the band because she knows you love snow as much as she does; stogging around in the white stuff until you're too tired to play anymore; warming by the wood stove sipping hot chocolate while the drip of your wet clothes plays a song for your ears; and sitting at the window staring at the falling flakes in wonder of their beauty.
Tipper
Appalachia Through My Eyes – A series of photographs from my life in Southern Appalachia.