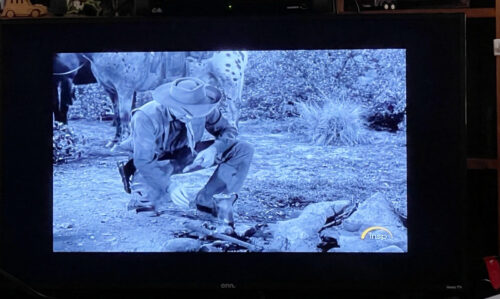 Back in June I left my full time position with John C. Campbell Folk School to focus on my passion of celebrating the wonderful culture and heritage of Appalachia. My mind was full to the brim with things I wanted to do. It still is.
I have by no means accomplished all the ideas in the short time I've been self-employed, but I have been able to check one of the items off my mental list—spend more time with Granny.
I've been spending one day a week with her, doing whatever she wants to do.
We've strung beans, worked in the yard, cleaned in the house, went to the store, and watched a whole lot of westerns on tv.
Granny's tv pretty much stays on the western channel or the inspiration channel where she can watch various western series throughout the day.
She loves Wagon Train, The Virginian, Gun Smoke, Death Valley Days, Cheyenne, Bonanza, Big Valley, and more. Her favorites are Wagon Train, The Virginian, and Death Valley Days.
I love them all, but especially enjoy The Virginian.
No matter the show, once I set down on Granny's couch and begin to watch I become mesmerized.
I'm not really a big tv watcher but there's something about those old western shows that pull me in and compel me to become involved in whatever incident that's going on.
Of course the shows are make believe, made to entertain folks like Granny and me. Yet there's something so simple about them that they comfort me. No complex story line to keep you guessing, just a single problem that's always fixed by the end of the show.
As I stated at the beginning of this post, I left my full time position to focus on working for myself and to highlight the people of Appalachia, but there was one other issue that helped me make that leap.
The crazy year of COVID showed me the most important things are right in front of me: my faith, my family, my garden, the high ridge above the house, Stamey Creek as it flows through Wilson holler and heads on to Brasstown and beyond, the music we make together, the chickens in the backyard, the worn trails that lead up the creek where my ancestors walked before me and the daily tasks that I do to support my family and friends.
Being forced to slow down and notice anew the things that bring me great overflowing joy made me yearn to experience them all on a daily basis forever, not just for the respite of working from home while the Folk School was closed.
I haven't regretted my decision to become self-employed doing the things I love for one mili-second. I have relished being able to focus on celebrating Appalachia in a more meaningful way, but most of all I have savored every last second of doing for my family whether that's cooking a good supper, putting up food, or watching westerns with Granny.
Tipper
Subscribe for FREE and get a daily dose of Appalachia in your inbox