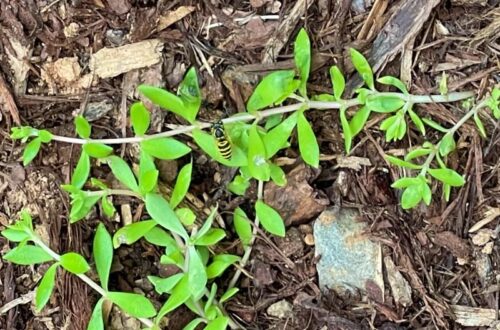 About this time last year I shared a post with you discussing the lack of yellow jackets. Here's a portion of it:
"About a week ago Don Casada sent me an email to ask if I'd seen any yellow jackets this year.
I hadn't really noticed their absence until Don sent me the email.
Once I started thinking about it I realized I hadn't seen any all summer.
For the past few years we've had a pesky nest of yellow jackets just outside the backdoor. They somehow wormed their way into the block foundation. Every time you'd go down the steps off the deck on that side they'd start humming around. One year you could even hear them in their nest from the basement. I guess they were working on filling up the inside of the blocks.
The Deer Hunter always managed to run them out only to have them return the following year. But no yellow jackets this year. Not one.
Last weekend I was drying some apples and thought "This will be the real test. I'll throw my apple peelings on the compost pile and go back later to see if there's any yellow jackets."
When I went back to check late in the evening there wasn't one bee. Not one.
The reason Don sent the email in the first place is that he's noticed the absence of yellow jackets in Bryson City. Don takes care of a large cemetery and typically has several run-ins with yellow jackets over the course of the summer as he works. Not this year. Don also noticed there were no bothersome yellow jackets on a recent picnic he went on."
---
When I wrote the post about the missing yellow jackets several other folks noted they were missing from their summer landscape too.
Well let me tell you yellow jackets are back in Wilson Holler by the teeming millions. I mean you can't walk in the yard without seeing them brewing about your feet like they're part of an impending plague.
The Deer Hunter is one of those folks who somehow attract bees of all kinds. We can all be outside somewhere together and a bee will hone in on him making, well making a bee line, straight for his head. It's sort of uncanny how attracted bees are to him 🙂
This summer The Deer Hunter has been stung several times by yellow jackets while walking in the yard or out the trail behind the house.
One day he came in and said "Well I've got stung again." He was out along the trail fiddling with a deer stand and suddenly realized he was straddling a yellow jacket nest. Needless to say he got out of there in a hurry. But not before a yellow jacket hitch-hiked a ride indoors with him.
It was the funniest thing. I was at my computer typing and he came in to tell me about the latest sting and a bee literally flew off his back and started circling the room.
I reminded him about my post from last year. He said "Well I've found where they all went, they moved all their nests to our side of the mountain."
The yellow jackets are also back in our block foundation. I've never seen yellow jackets as active as they are this year. All I can figure is they're in a frenzy to make up for what ever happened last summer.
---
Last night's video: Making Kraut Cake in Appalachia
Tipper
Subscribe for FREE and get a daily dose of Appalachia in your inbox