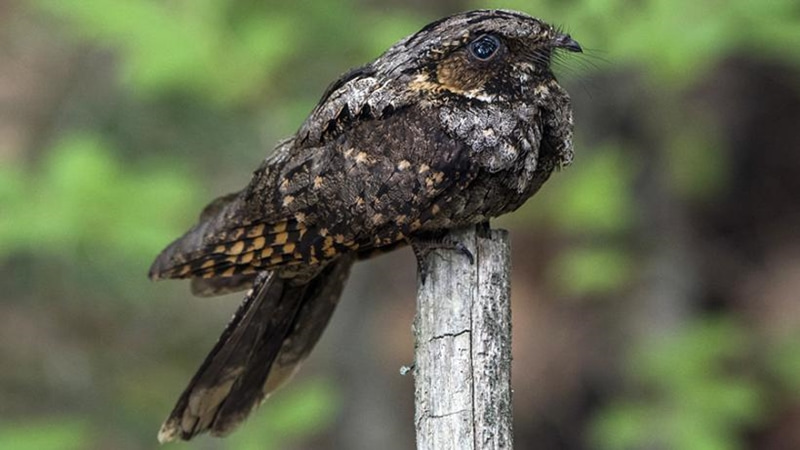 Photo by mass.gov
"When I was little, after supper we'd go out on the front porch and listen to the nightingales and whippoorwills calling for their mates. Mama always said the nightingale never said the same thing. One time, after dark, Tommy Higdon brought his coon dogs up to the house to see if he could catch a coon and me and Harold went with him. There wasn't no roads going up in the holler, only trails. We got up in the holler a far piece and his dogs smelled something under the banks near the creek. They wouldn't bother it, but Tommy reached under the bank and pulled out a Whippoorwill. It wasn't no bigger than a thought, but we noticed them red, beady eyes. Me and Harold had never seen one up close and were amazed. It was speckled, kinda like our domineckers back home in the roost. How could anything make such a loud racket, being so small? We put it back in the bank on a root and left it alone. We learned something that night and never spoke of it again."
—Ken Roper
—-
For the last several springs we've heard a whippoorwill start its unique call early in the morning, like 5:00 a.m. early in the morning.
Usually about the time its call would wake you from a deep sleep our dog Ruby Sue would start barking. I don't think she appreciated the whippoorwill's song 🙂
This spring we haven't heard the early morning whippoorwill. Seems strange, but somehow fitting that Ruby Sue and her nemesis the whippoorwill both left us before spring of the year arrived.
Do you hear whippoorwills at your house? I'm sure hoping I hear one as summer comes on even if the early morning alarm clock is gone.
Tipper
Subscribe for FREE and get a daily dose of Appalachia in your inbox