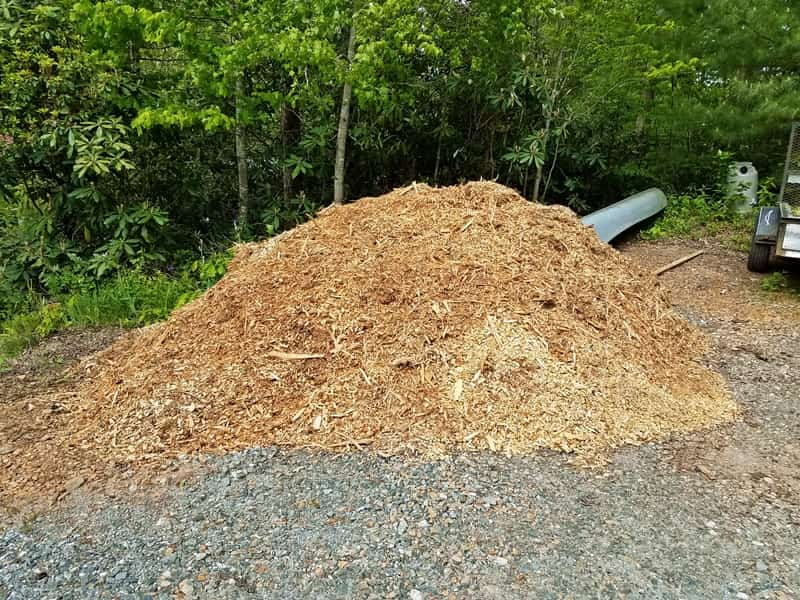 I'm so thankful to have a giant pile of mulch in my front yard! I'm even happier it didn't cost us a dime.
I'm still working from home, but I have to go to the Folk School about once a week to take care of a few things. About two weeks ago when I returned home from work I saw the EMC were cutting trees and I couldn't get up the driveway. I headed on up to Granny's to wait for the road to clear.
I stepped out on her back porch to get a better look at what the men were cutting and noticed they had a chipper with them. Before I thought of asking them what they were going to do with the chips they loaded up and left just as it began to rain. I was disappointed because I figured they'd give me the chips instead of dumping them somewhere else.
Oh well I thought I just missed out.
Fast forward to about two days later.
The girls and I heard chainsaws and quickly realized the EMC was back to finish their line trimming…and they had the chipper with them again.
Chitter knew I wanted those chips for our garden and the girl has never met a stranger so she took off down the hill to see if they'd give us the wood chips to use for mulch.
The girl is also a natural born story-teller so I'll let her tell you about acquiring her momma a giant pile of mulch.
Tipper
Subscribe for FREE and get a daily dose of Appalachia in your inbox