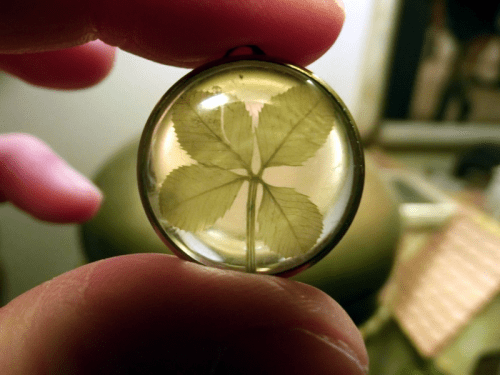 Have you ever looked for 4 leaf clovers out in the grass? I have never ever found one-not once. The truth is I probably never had the patience to keep looking. After a few quick glances I'd give up the clover looking in favor of pulling daisies, looking for grasshoppers, or weaving crowns from the grasses.
Even though I never found one-I am closely related to the Queen of 4 Leaf Clovers-she's my sister-n-law. I swear-as long as I've known that girl-and it's been a long time-she can find a 4 leaf clover quicker than you can say scat.
Her magic ability might have been one more reason for me to be jealous of her when we were in elementary school-she was pretty-super smart-every teacher's pet-not shy at all (like me)-and she could magically call forth 4 leaf clovers. But she was also sweet as pie-so there went the jealous thing.
She can still find them too. A few years ago one of the girls needed a 4 leaf clover for some kind of school project. I said "Go down to Granny's yard and I'll bet you'll find one there." She came back disheartened and tired of looking for a "stupid 4 leaf clover". I sent her down to Aunt Kim's and I swear she was back in no time with not one-but three 4 leaf clovers.
Ever find a 4 leaf clover?
Tipper
Appalachia Through My Eyes – A series of photographs from my life in Southern Appalachia.