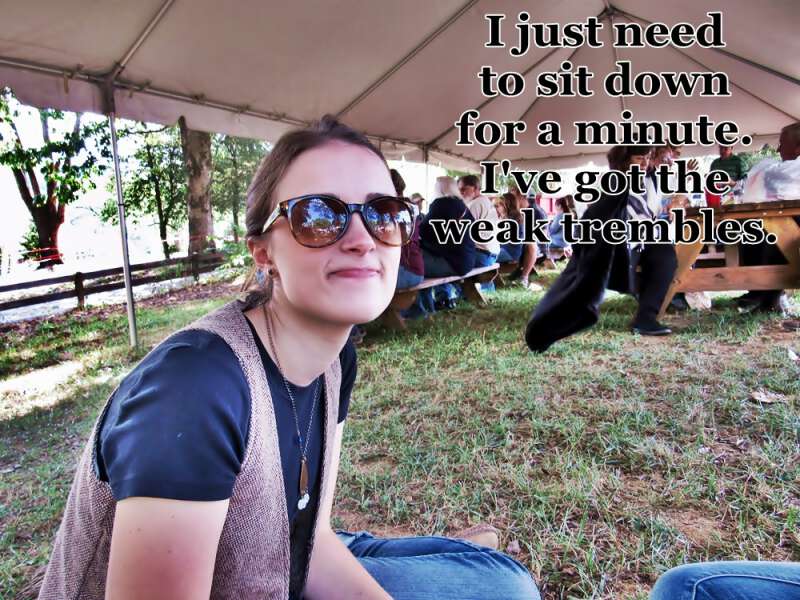 weak trembles noun Tremor, general weakness of the body; anxiety.
1913 Kephart Our Sthn High 227-28 But old Uncle Neddy Cyarter went to jump one of his own teeth out, one time, and missed the nail and mashed his nose with the hammer. He had the weak trembles. 1943 Justus Bluebird 21 When the old man went to the woods or the field to work for a good while he always took along a bite to eat, not because he got hungry, he said, but to keep his stomach from getting the "weak trembles" as he called them. 1952 Wilson Folk Speech NC 605 have the weak trembles = to be worried. 1984 Wilder You All Spoken 205 = weak and wobbly because of hunger or apprehension. 1990 Cavender Folk Medical Lex 33 = a feeling of general weakness associated with mild trembles of the body. 1994-97 Montgomery Coll. (known to ten consultants).
Dictionary of Smoky Mountain English
————————
I had the weak trembles at work one day last week. I felt like I could barely hold my head up, I was slightly dizzy, and sick at my stomach. My spell of weak trembles lasted much longer than usual and by dinner I had convinced myself I must be getting the flu. But I wasn't. After I eat a substantial meal and drank a coke instead of my usual glass of water I felt much better.
Typically a saltine cracker or biscuit and a sip of coke is enough to bring me right out of the weak trembles. How about you?
Tipper