Today's guest post was written by Ed Ammons.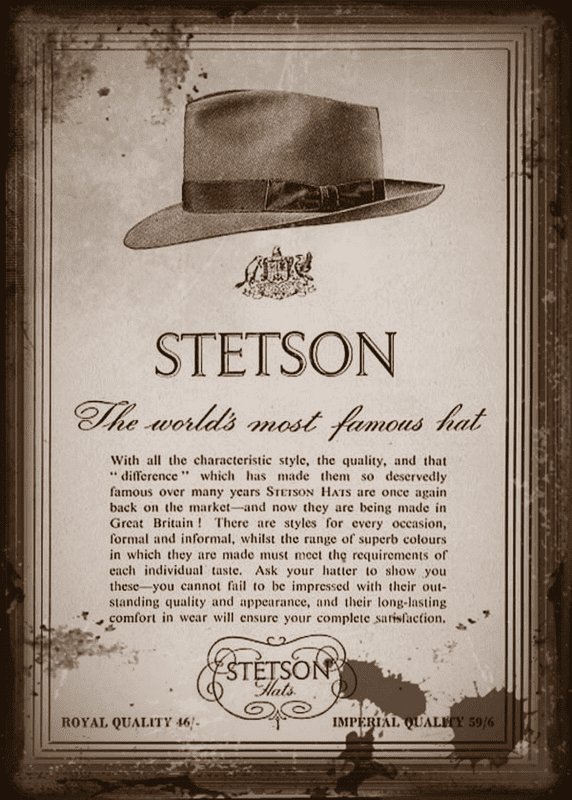 Daddy's Stetson written by Ed Ammons
Daddy had a gray felt Stetson hat. It was probably was the most expensive piece of apparel he ever owned. Daddy didn't buy it though. It was a gift and it was used. Daddy's sister had married into a family of "means". She often gifted our family with items that were outgrown or unwanted, mainly clothes and books. Never money that I know of, but that doesn't mean the hat had no connection with money.
Daddy was proud of that hat and wore it only on special occasions and always to church. He would take it off as he entered the door and carry it with him to wherever he wanted to sit. At Hightower the men usually sat on the left side. Daddy tried to get the first pew (the "pews" were actually homemade benches with straight backs) at the end next to the middle aisle. He would sit down first and the hat would sit beside him. There were nails in the wall at the back to hang coats and hats and such, but Daddy never hung his Stetson there. It always sat beside him. You are thinking, "why guard it so closely, it's a church!"
Yes, Daddy was proud of his chapeau, but pride never entered the church doors. That Stetson served another purpose. When all the singing, shouting, preaching and praying had begun, the hat came into its own. Daddy would pick it up, turn it over and put something in it. Then he would cross over to the "women's" side and hand it to whoever was sitting next to the aisle on the first pew. Then he would return to his seat to wait. The hat would make its way across and back and across and back again and again until it reached the back of the building, then someone would carry it over to the men's side where it repeated the process in reverse until it made its way back to the front where Daddy was seated.
Along the way it collected a few pennies, nickels, dimes and quarters. And fewer dollars. We were poor people back then and very little cash money was available. The adults would distribute whatever they could afford among their children before service so everyone could give. The best the church could expect to collect was enough to pay the light bill and give the preacher a little gas money.
When Daddy got his Stetson back he would take it up to the pulpit, sit it on a shelf in the back and return to his seat. Only then could I go sit beside my Daddy.
——————–
I hope you enjoyed Ed's memories of his daddy and his hat as much as I did!
Tipper