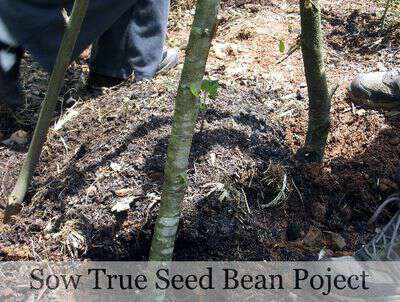 Sow True Seed has sponsored the Blind Pig garden for the past 2 years-their seeds are awesome! This year, the fine folks at Sow True Seed wanted me to focus on Beans.
With an eye on the future, Sow True Seed has taken a stand to help insure the purity of open-pollinated and heirloom seeds-so future generations can continue to grow their favorite veggies-save their seed from year to year and continue the circle of growing that our ancestors have handed down to us without having to worry about genetically altered seed strains.
What a wonderful endeavor Sow True Seed is trying to accomplish! But it's also very labor intensive. It takes a lot of work to ensure the purity of those seeds-and as Neely, from Sow True Seed, told me-"the company needs to make sure the seed varieties are worth the effort."
That's where the Blind Pig & the Acorn Bean Project came into play.
Sow True Seed sent me seeds from most of their bean varieties. I, along with 4 Blind Pig & the Acorn @ Large Bean Reporters planted the seeds and over the course of the summer we'll keep track of the following attributes:
early growth
bean vine
growth throughout the season
harvest
and perhaps most important-taste
Blind Pig & The Acorn Bean Reporters @ Large 
Western NC author, Vicki Lane, is reporting on Lima Bean Dixie Speckled Butterpea Bush Beans. Now that's a mouthful to say!
Quinn is reporting on perhaps the funniest named bean-Lazy Wife Greasy Pole Beans.
Patti is reporting on a bean I've never even heard of: Snap Bush Royal Burgundy.
Lise stepped up to report on 2 bean varities: Strike Snap Bush Bean and Margaret Best Greasy Cut-short Pole Bean.
I can't wait to see if the Reporters @ Large have success with their beans! I'll tell you about the bean varieties I'm growing in a few days.
Tipper