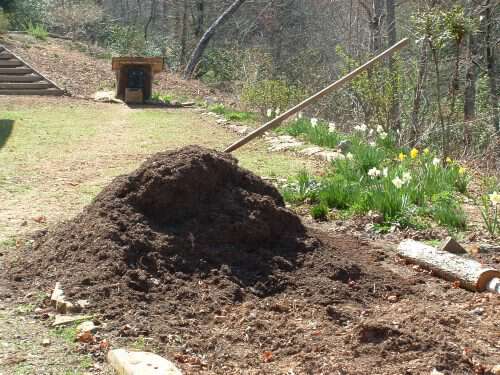 I like having a compost pile to help enrich the soil of my garden. I also like instant gratification. If you have a compost heap you know it can take a while.
A different approach to the compost heap is to make compost tea. It doesn't take near as long to see the results. There are 2 different technical approaches to making the tea. Both methods result in a mineral and nutrient rich drink for your plants.
The first is aerobic tea. Oxygen is added by a pump to fully aerate the tea. You can use a small pump like the ones used in fish tanks. The pump speeds the process and the tea is usually ready in 1 to 3 days.
The second way is called anaerobic tea-no pump is needed. By stirring the tea several times a day enough air is added to aid in the microbial growth. This process is slower and usually takes up to a week or a little longer.
I chose the anaerobic method since I don't have a pump but happen to have two nut job daughters who like to play in the mud.
The recipes for compost tea are plentiful. The tea can be as simple as putting a few shovels of compost into a bucket and covering with water or you can add things like: rotten fruit, seaweed emulsion, fish emulsion, molasses, alfalfa meal, corn meal, apple cider vinegar, or citric acid along with the compost.
We chose to use the ingredients we had on hand. Cornmeal-1 cup, molasses-2 tablespoons, cider vinegar-1 tablespoon, and a few shovels of compost.
After you add the ingredients-cover it all with water.
The tea needs to brew for at least a week with daily stirring. The tea is ready when it has an earthy or yeasty smell. It should also look a little foamy on top. If your in doubt-let it set a week and then use it.
The recipe made-about 5 gallons. Compost tea is quite strong and should be diluted in a ratio of 1 part tea to 10 parts water. With just a little effort you can take a small amount of compost and increase its use to cover a large area of your garden. Most recipes advise you to strain the compost out of the tea water by using old pantyhose or cheese cloth. The strained materials can be added back to your compost pile to keep on working.
I hope you try the tea-it really gives plants a pick me up. Have you ever tried making compost tea? Or do you have any other gardening tips?
Tipper