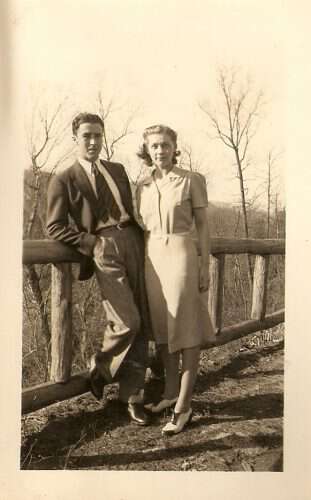 June is one of the most popular months for weddings. Appalachia has many interesting customs and sayings surrounding matrimony-one being a Shivaree (also called a Serenade). A Shivaree is a loud greeting given to newlyweds on their first night home. The Shivaree starts just after dark and includes loud banging, hollering, and serenading. Putting the couple in a wheel barrel and pushing them around is sometimes part of the fun as well. Over the years many of the traditions have fallen by the way.
Pap and Granny dated a short 3 months before they ran off and got married. Granny tells that she was all for getting married-but after it was over she was deathly afraid to go home and face her mother. When they told her mother, Gazzie, she warned Pap to be good to her daughter or else. He followed through on his promise to treat her right all the years they were married.
The Deer Hunter and I dated for 4 years before we took the plunge. We tease about how if feels like we've been married 40 years-its actually been closer to 20 years. Our wedding was small and inexpensive. My favorite detail of our marriage-we used his grandparent's rings (the first picture on this post is of them Bonnie and Curtis).
A few other Appalachian customs or sayings concerning weddings:
*If someone sweeps under your feet you'll never marry-I heard this one my whole life.
*The couple jumps the broom after the service to signify crossing over from single life to married life.
*In the past many marriages were conducted at the local Court House-hence the term going courtin. When I was a teenager someone was always asking me if I was "courtin" yet.
*This last one is for all you quilters. When young ladies gathered to put the finishing touches on a new quilt they would each hold a piece of the quilt and someone would throw a cat on the quilt- whoever the cat jumped off by-was the next girl headed for marriage.
Have you ever been to a Shivaree/Serenade? Are there any wedding customs in your area?
Tipper