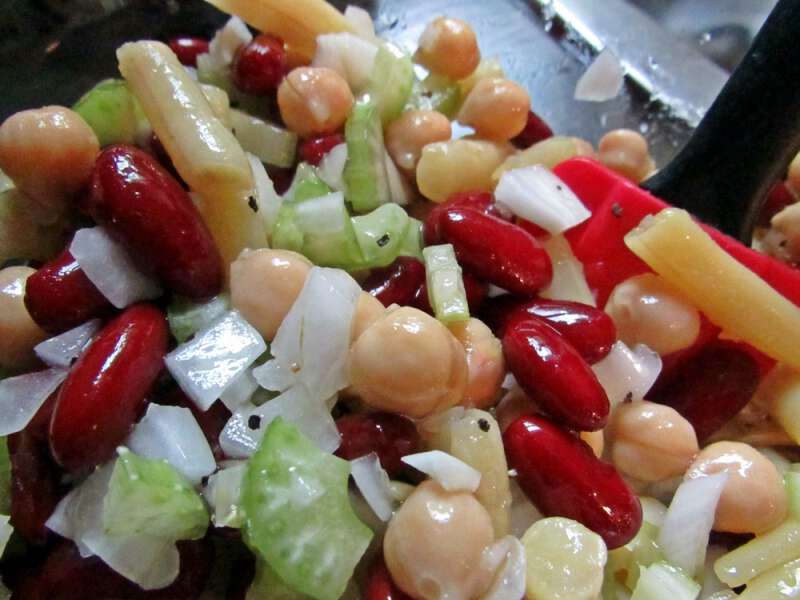 When I go to a homecoming or dinner on the grounds I always keep an eye out for Three Bean Salad, but I've never made it myself until this past weekend. I was taking a look through one of my favorite Appalachian Cookbooks – Mountain Cooking by John Parris when I saw his recipe for Three Bean Salad and decided to make it with a few minor changes.
Three Bean Salad – Adapted from Mountain Cooking by John Parris
1 can garbanzo beans/chickpeas (Parris used greenbeans)
1 can yellow wax beans
1 can red kidney beans
1 medium onion thinly diced (Parris sliced his onions)
2 stalks of celery thinly sliced (Parris used 3 stalks)
½ cup sugar
½ teaspoon pepper
2/3 cup apple cider vinegar
1 teaspoon salt
1/3 cup olive oil (Parris used 2/3 cup)
Drain beans and rinse with cold water. Combine onion and celery; mix with beans.
Combine sugar, pepper, vinegar, salt, and oil; mix well. Pour sugar mixture over bean mixture and toss to combine. Place bean salad in refrigerator for several hours or overnight stirring or tossing several times to make sure all the beans marinate equally.
Drain before serving.
The amount of vinegar, oil, and sugar used can be easily changed depending on one's taste. The original recipe called for diced pimentos. I left them out because I didn't have any on hand, but I'm sure they would be good in the salad too.
The recipe I adapted from Mountain Cooking turned out very good. I'm betting more than a few of you have your own recipe for Three Bean Salad since it's such a common recipe. I'd love to hear about your recipe so please leave a comment and tell us about it.
Tipper