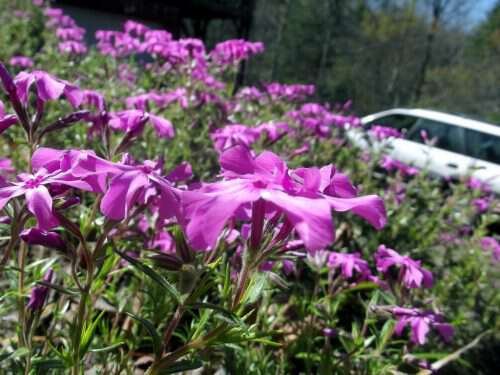 Years ago I planted my front bank in thrift now each spring there's a pink mass with butterflies galore enjoying the feast.
Tornadoes don't come to the mountains where I live often-the one earlier this year was the first to hit the area since 1974. Almost 40 years between the two tornadoes.
On the night the more recent tornado struck-Chitter ask a lot of questions about storms. But she kept coming back around to how lucky we were to have a basement. (Chatter slept through the whole thing.)
We told her lots of people in western NC have a basement. The Deer Hunter explained to her if you build a house on steep ground-cost wise you might as well build a basement cause you have to get the house up out of the ground.
My thrift bank is there-because we have a basement. A trivial thing to think about-but I've often thought of how many folks grew up with a basement door that leads out by a bank or between 2 banks like I did.
Maybe I think about it because between the 2 banks that lead to Pap and Granny's basement was one of my favorite places to play as a child. Basement banks are common in southern Appalachia-and more often than not you'll find thrift growing on the banks as well.
Instead of thrift some folks call the low growing evergreen plant Phlox, Creeping Phlox, or even Mountain Thrift. What do you call it?
Tipper
Appalachia Through My Eyes – A series of photographs from my life in Southern Appalachia.