Today's Guest Post was written by Don Casada.
————————
Leaves of November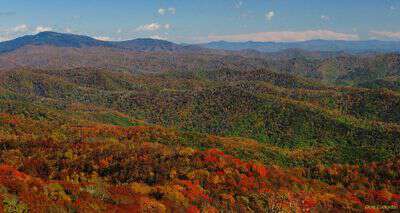 I spend a fair amount of time rambling up, down, and around by shanks mare in the Great Smoky Mountains. Here in late November, it is a time of stark contrasts. It is numbingly cold mornings followed by comforting and gloriously warm afternoons. It is see-to-forever close on the heels of the dark and the drear.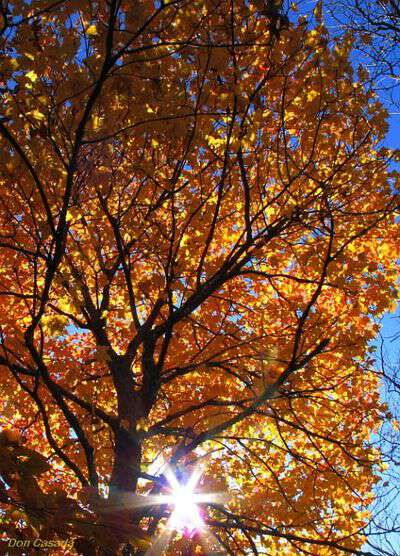 As much as we glory in the lushness of life of spring and summer as well as the dramatic colors of early fall, there is just something hauntingly beautiful about the mountains in late fall and winter. Rugged grey skeletons stand tall in ranks and rows along ridgelines and leads, keeping a watchful lookout. In many cases, they've had to "take holt" by sinking roots down around and even opening cracks through rocks to find sustenance below. In as fine an example of a partnership as you're likely to find, those trees return the favor – providing protection against the elements for the rocks and soil where they've taken root. Down in the more sheltered coves and hollers, their cousins often grow to immense proportions; blessed by incredibly fertile soil and ever-flowing spring water. There is much to admire and love in both the gnarly and the gigantic, for as Joyce Kilmer succinctly put it, "Only God can make a tree." If pressed to name just one aspect of nature that most defines and endears these mountains to me (and there are oh-so-many), I think I would have to say the trees. In both life and death, our mountain trees have surrounded, nourished, and sustained our forebears and us. They provide shelter from the storm, heat against the cold in winter,shade against the heat of summer, and food for both body and soul.
Trees also mark the seasons for us. Sitting here in the room where I shared a bed with my (much;-) older brother Jim as a boy and now use as an office, I can look out across Bryson City to the Alarka Mountains and watch the leaves steadily spread their way up the mountainsides and hollers in spring and then see the leaves take leave the fall in a descending instead of ascending order.
There is no finer month for fetching back fond memories than November, and no finer place to do it than here in the hills that we call home. Most of the leaves have now fallen, not only on the mountains but down in the valleys. Only a few of the younger trees, who seemingly have not yet learned the patterns of life and death, want to hold and cling.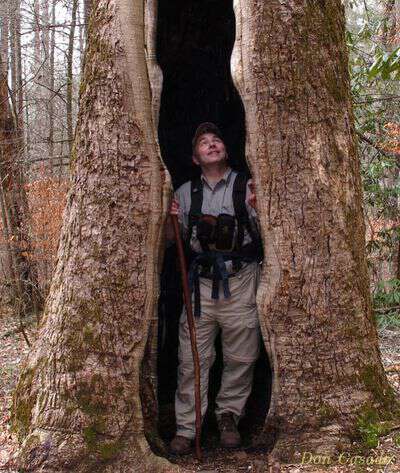 As you walk through the woods nowadays, you can see much – both up close and in the distance – that just a month ago was hidden from view by leaves. Now I have to say that those leaves still do some hiding – a fact to which my backside and other parts can attest.  Anyone who does much walking on a freshly-fallen layer of leaves in the mountains will eventually find themselves atop just the right combination of leaves, steep slope, and slick rock or root below to instantaneously transfer them from an upright to an upward-looking, but prone position, gasping for the breath that was just knocked out of them. I'd bet that some fellers (surely not gals) that this happens to cut loose with an interesting word or two or ten. I wouldn't know any of them words, of course…..
But seriously, a recent leaves-upon-root launching and tumble set me to thinking back over this year which has passed so quickly, and consider it from the perspective of the leaves which were an instrumental part of my undoing. So won't you come along with me, and let's remember here in late November.
Only nine months ago, in that short and often bitter month of February, they existed only in the mind of their Creator. But a warm day here and there late in the month started something to happening, and before you knew it, swollen buds burst forth in new life with tender light greens of early spring.
March is mercurial and flighty. But just surviving fickle weather gave them a sense of confidence and strength. The tentative hint of green began to darken, and they grew at an accelerating pace, changing daily.
Just half a year back, in that magnificent month of May, they were well-nigh fully grown, garbed in a healthy dark green outfit of young adulthood, and primed to absorb – and give – life. Upward they lifted their heads for the blessing of each erg of energy poured down.from heaven's plentitude. They flirted and they played, keeping perfect time with springtime breezes. They danced to the "purdy, purdy, purdy – treat, treat, treat, treat, treat" of a pair of cardinals echoing harmonies in the hollers, and occasionally hearkened to the preacher bird's exhaustless exhortations ringing from the ridges. High-up mountain streams tumbled and laughed, making misty sprays out of their abundance, nurturing nearby branch lettuce and patches of ramps. Truly, it was a time when "All nature sings, and round me rings, the music of the spheres."
The vicissitudes of spring slowly gave way to a more dependable, less variable time, framing the context for work yet to come. Early June rains didn't dampen their attitude; on the contrary, the leaves came out the other side all the more glorious, adorned by rainbow-colored jewel drops of water sparkling in that unequaled clarity of an after-shower sunshine.
The July summer did, in fact, bring day after day of hot, hard, photosynthesizing work. An occasional afternoon thundershower brought much needed break from the task, and gave those now somewhat calloused leaves a wee bit of a reminder of earlier days and easier ways.
Then came August, oh August – that month of tribulation, trials and testing. Is this what life had come to – an unrelenting heat and day after day of dry gasping with but a shallow drink of dew in the morning? What were formerly veins of life became lines of constant worry.
But just when it seemed as if it would never end, suddenly there came, somewhere around that third week of the month, a couple of days of refreshing change. It was as if to say "Well done – thus far – good and faithful servant. You have earned a brief reprieve, but there's more work yet to do. So keep your hands upon the plow, and hold on."
With that bit of encouragement the leaves obeyed their Maker. While they still awoke each morning and set to the task at hand, the days grew shorter and less intense. The fruits of summer labor ripened, and with that fruition, the sense of urgency diminished. The slackened rate and maturity brought a sense of satisfaction to September.
Gone was the vigor of youth; having yielded to a more thoughtful pace, as if in making the final, careful, finishing brush strokes on a painting. Life-carrying veins that became lines of worry in August transitioned once again to become outlining frames for the developing amber autumn hues.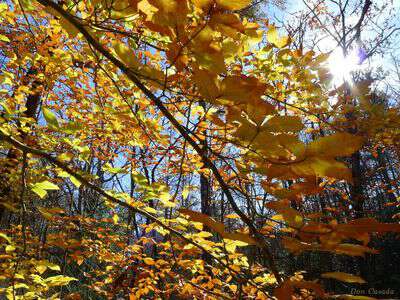 Technically, the October sun wasn't greatly different from that of April – each just slightly offset from the autumnal and vernal equinoxes. Can it possibly be that the sun throwing a sparkling freshness on a spring's early morning is the same sun which brings a mellow glow to a late autumn afternoon? It just can't be – and yet it most definitely and assuredly is. It is a double-mirrored image, a reminder that – for now – we can only see through the glass darkly.
In November, their time aloft spent and colors faded, the leaves are set free to join brothers and sisters, parents and grandparents, friends and foes, in enriching the soil to the benefit of future generations. But while the body has fallen, the essence that carried them from budding green to glowing gold hasn't.  It has only departed for a time, and will – before you know it – take on a new life, in a new body.
There is a time to do and a time to reflect, and a time to contemplate. November seems to be all three to me. Especially on a day when the air is clear and views unobstructed, it is a fitting time for looking back at what has been, looking all around to see what is, and then considering all that is yet to be. The words of Clara Scott, the hymnist, seem fitting (and I can almost hear my Mama singing these in the pew of a Sunday morning):
Open my eyes, that I may see
Glimpses of truth Thou hast for me;
Place in my hand the wonderful key
That shall unclasp and set me free.
Silently now I wait for Thee
Ready my God, Thy will to see,
Open my eyes, illumine me,
Spirit divine!
————————
I hope you enjoyed Don's writing as much I did! His thoughts on leaves seem especially fitting after the past few blustery days we've had here in western NC.
Tipper