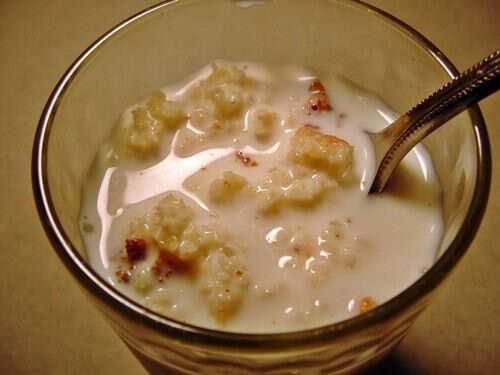 After all the heavy eating of the holidays I find myself wanting simple meals in weeks that follow. You know things like eggs and toast, grilled cheese sandwiches, and cornbread and milk.
I'm sure most of you are familiar with cornbread and milk, but just in case your not, the dish is crumbled cornbread in a glass with milk poured over it. Some folks prefer regular sweet milk and others like Granny and Pap prefer buttermilk.
Over the years more than a few folks have left comments about cornbread and milk here on the Blind Pig and The Acorn.
Janet said: Of course, I like cornbread and milk together sprinkled with pepper. As someone else said, I also like to mash up saltine crackers in a cereal bowl and pour milk over them. It is delicious. And, we had potato cakes tonight made from left over mashed potatoes we ate last night.
Kat remembered eating it with her Daddy when she was young and said she still likes to eat it.
Farmchick said: I don't like them mixed up together. I prefer my cornbread with a lot of melted butter between a nicely sliced layer! My Papa always had a big glass of cornbread with milk before he went to bed. It always seemed like so much to eat!
Wanda in NoAla said cornbread and milk was a sure cure for the munchies.
Norma said her grandfather thought the perfect Sunday night supper was to crumble cornbread into the biggest glass he could find, then pour in either homemade buttermilk or Borden's buttermilk, which had big chunks of butter in it.
Carlton GA Boy said: I grew up in a Cotton Mill town (Carrollton, GA) in the late 30's and early 40's. My parents and other kin worked different shifts and so most of the time we had fresh cow milk and left-over cornbread (from noon dinner) mixed in a glass for supper. Talk about being good, this combo would beat cornflakes any day of the week. Kids of today don't know what good dishes they are missing.
Trish said: Memaw introduced me to this as a little girl! always have some when I'm feeling down. Simple, but such a delicious treat!
Frances Masuda said: Hi Tipper, I ate cornbread and milk when growing up, and I still like it, and eat it when I fix cornbread. Married for 50 years, and whenever I do it this, my husband still teases me. He doesn't know what he's missing!! Ha I like to eat it while warm with butter on it before putting in my glass of milk. Yummy!!!!!!!!
Ken said: Tipper, That ole snuff glass filled with cornbread and milk sure brings a lot of memories back. I guess my grandma's Bruten Snuff glasses is where we accumulated ours. But I enjoy cornbread crumbled and with milk poured over it or just a chunk broken off a cake and washed down with sweet or butter- milk. Kinda makes me happy, with the Blind Pig Gang playing in the background.
Bill Dotson said: Tipper, I have ate cornbread and milk for as long as I can remember, I also like light bread and milk and soda crackers and milk. Years ago I started dicing up an onion in my bread and milk and crackers and milk. I guess you can tell I am rather fond of onions, I like them every way I can think of even on crackers and peanut butter, I may be weird in that way.
Rachel said: We grew up with cornbread and milk. I prefer the sweet milk. It is a wonderful treat! Just crumble the bread in a glass or cup and then pour the milk on. I worked with a man years ago that ate milk and crackers the same way. I always said it sounded awful, but he convinced me to try it and it's good too. Not as good as cornbread and milk though!
B.Ruth said: Tipper, As I have posted before my Mom ate black walnuts in her cornbread and milk…if she had them… My husband likes his with buttermilk…as did my Mom and his Mom… We never ate cornbread n' milk in a bowl ….always in a glass…and I'll have mine with sweet milk please…never buttermilk…ewwww… Could I mention one more thing about make do meals… When we had mashed potatoes we always made enough to save for the next day…and we had the best potato cakes in the world…left a lot of time out on the stove for kids to grab for a snack…Thanks Tipper
Don Casada said: Try putting a spoonful of sourwood honey in with your cornbread and milk, Tipper – I bet you'd like it then. Of course I'm pretty bad to like honey – especially sourwood – so I'd probably even like sheep sh** tea with some sourwood honey mixed in. By the way, if you've never done anything on sheep sh** tea – which was applied externally (as far as I know!!!) and similar remedies for skin ailments, you might want to look into it.
Mike McLain said: One of my favorite things EVER. I love it with sweet milk, especially if the cornbread is made what I call the old southern way – corn meal, buttermilk, egg, and some melted bacon fat (oil works, too). My mom had an old corn stick pan (not the ones that make the cornbread look like an ear of corn). It made plain sticks about 8 inches long and roughly 3/4 inch diameter. I loved them because there was plenty of crust. I wish I could find a pan like that one. Mom's got broken and after she died, it disappeared – my Dad probably just threw it away. Unfortunately, cornbread means extra weight, so I have to go easy on it, but it will always be one of my favorite treats, especially crumbled up in a glass of sweet milk.
I gave cornbread and milk a quick google and found this site that has some interesting tidbits about cornbread and milk.
If you need to know how to make a good cake of cornbread-you can see how we cook ours here.
Hope you'll let me know if you like cornbread and milk!
Tipper
Subscribe for FREE and get a daily dose of Appalachia in your inbox