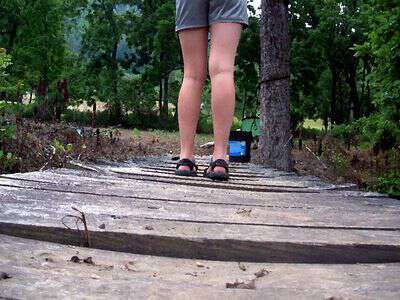 Granny isn't against wearing shorts-but she does think there is a time and a place for them. The other night I overheard her tell one of the girls they shouldn't be out in the damp evening air with shorts on-she said "Lord you're out there bare-legged you're going to get eat up with bugs." (If it had been a little cooler weather-the warning would have been they were going to take a chill being out in the cool air bare-legged.)
Wearing shorts-going bare-legged-when you're working in the garden-picking blackberries-etc. makes sense to me. But not to Granny-she wears a long sleeve shirt with her pants tucked into her boots to prevent any bug bites or heaven forbid getting a tick on her!
When I heard Granny warn of the dangers of being bare-legged in the evening air-I wondered if bare-legged was a saying you were familiar with too?
Tipper
Appalachia Through My Eyes – A series of photographs from my life in Southern Appalachia.