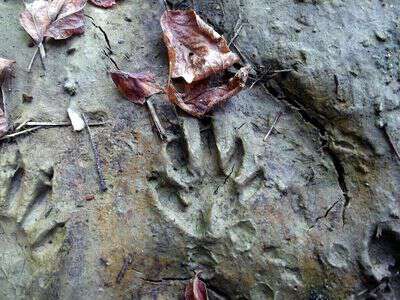 Over 70 people tried their hand at deciphering what animal made the track in the photo I took on our arrowhead hunting day. And the majority of guessers got it right-the animal track was made by a raccoon.
I'll share a real life story about a raccoon with you-it seems too silly to be true-but it is true.
Way back in the day when Granny and Pap moved us into their house, Granny who was used to living in a more populated area felt like she was living in true wilderness. She took her food scraps out to the edge of the yard and threw them out. It didn't take the wildlife long to discover Granny's free offerings of food every evening. One day she seen an animal that she didn't recognize out at her scrap pile. She hurriedly called Mamaw (Pap's mother) and told her there was an animal out back of the house and she was worried that it might try to get into the house. Mamaw asked Granny what the animal looked like and Granny said "I swear it's wearing a mask."
Since so many people entered the giveaway-I decided to extend it to three people instead of one. I used the handy dandy number generator to pick the winners and they were:
#78-Elizabeth who said: "The masked bandit himself (herself?)….the coon!"
#38-Joyce Mullikin who said: "I think it's a raccoon."
#1-Kim Stalcup who said: "Looks like raccoon tracks!! :)"
What's the prize? A cd of the Blind Pig Gang!
A big THANK YOU to everyone who played along here on the Blind Pig and on facebook. Be on the look out for more giveaways in the coming weeks.
Tipper