The top benefit of writing the Blind Pig & the Acorn blog are the amazing people I've met. I've connected with people from England, Australia, Hawaii, Alaska, and pretty much every where in between.
While many of the connections I've made have been far and wide, I've made more than a few right here in Cherokee County.
I met Susie Swanson through the Blind Pig & the Acorn. Funny to meet Susie online when she lives just over the mountain-practically within walking distance. I went to elementary school with Susie's son, but never had the occasion to meet Susie until I started blogging.
Susie recently published her second book of poetry and I was honored to interview her as one of my Appalachian Writers.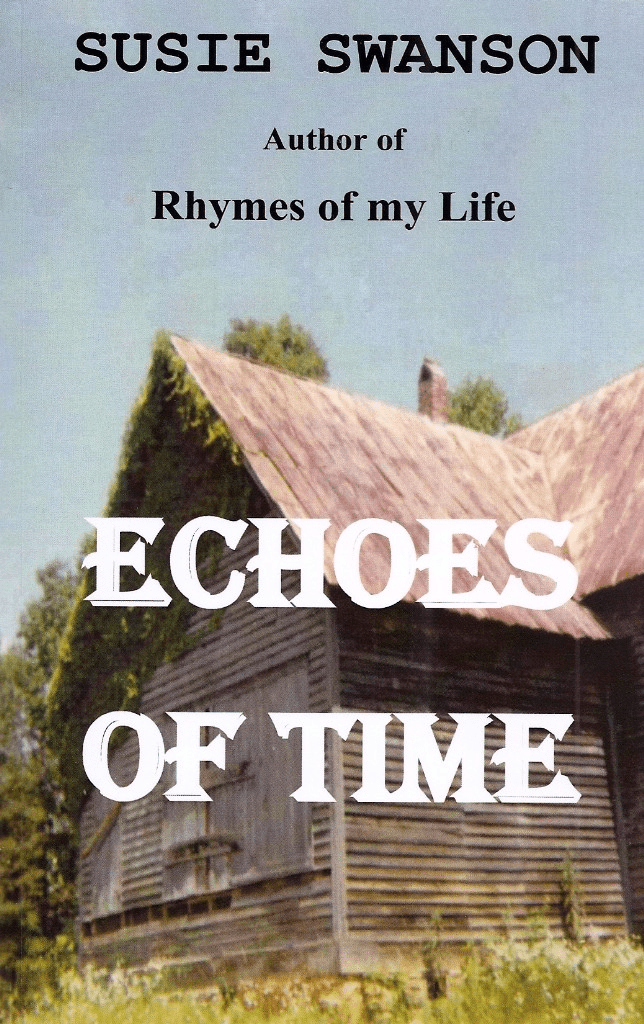 Did you grow up in Appalachia?
Yes, I was born and raised in Appalachia.
Did you want to write as a child? What were your writing influences?
No, I never thought about writing when I was a child. My biggest influences have been my family and my childhood memories. I came from a family of six kids, me being the oldest. We had loving, christian parents that taught us very early on to appreciate what we had and how to get by. We all had our fair share of chores. I was standing up in a chair and washing dishes by the time I was six. When I got old enough to be trusted around the wood cook stove, my mom taught me how to build a fire and cook. There's so many other things I learned early on, to many to mention. We cooked on an old wood stove until a couple of years before I got married and left home. Those childhood memories are worth more than any gold today and fodder for writing.
What was the first piece you ever had published?
It came when I published my first book, "Rhymes Of My Life" in 2010. They were some of my very first poems. I also started a Poetry Blog in December, 2010 called "Country Side Poet". I've published a lot on there and have a nice amount of followers and friends.
Why is it important for you to write about your heritage?
I want people to be able to read and know about my life. It's very important to me to leave it behind for future generations. The way I grew up and the old ways are a vanishing culture. When I'm gone my memories will go with me if I don't write them down and they'll be lost forever.
Are you involved or connected with other writers?
Yes, my dear friend and Publisher Wayne Newton has been such an inspiration to me. I gained a lifetime friend in him and his sweet wife. I would never been able to put "Echoes Of Time" together without him. He has a book of his own out, "A Bunch Of Wiregrass" that's an awesome read. Then, there's my sweet friend Barbara Taylor Woodall, author of, "It's Not My Mountain Anymore". Although, I have never met her in person I feel like I've known her all of my life. She's helped me so much and she and I speak and write the same language. We grew up the same way and share the same memories. She's a gem and a forever friend. Barbara has read my book and personally sent me a great review that brought tears to my eyes. Brenda Kay Ledford from Hayesville is another close friend. She and I share the same memories. Brenda has a lot of her writing published and several books out. There's several more writers I'm associated with but to many to mention.
Where can folks buy your book and find out more about you?
They can find it at Curiosity Bookstore, Cherokee County Museum, or Brother's Restaurant and all of these locations are in Murphy, N.C. One other place is in Hayesville, N.C. It's called Morning Song Gallery or they can also buy it straight from me. Susie Swanson 600 Moccasin Creek Road, Murphy, N.C. 28906. I've already mailed them out to so many different states that I keep saying it won't be long until I've covered every state. I'm in the process of putting them in a lot more locations.
Is there anything else you'd like to share with the Blind Pig readers?
I would just like to add that I'm an old country gal with a yearning for my yesterdays. I owe it all to my Father above and my earthly father and mother and the good raising I had. My dad lived to be ninety four and oh the things he could tell. I wrote it down in my mind as a child and after I was older and I love to share it. In my book I've wrote a short Story/Poem about him and his life and what he saw and done and there's so much more that I wrote about him. My mother was an angel. She not only taught me how to live, learn and grow but how to be me. I just wish I could have inherited her knack for curing the Thrash (Thrush). She left it behind and maybe someday when the right person comes along I'll know. Her own doctor sent his patients to her. There were many children and grown ups that she treated and they are living testimonies today of how she cured them. She just did it and walked away. That was her faith in knowing it would work. All of my family have become fodder for writing. There's a story to tell in all of us just waiting for the right words.
Can you sum up what Appalachia means to you?
Yes, like I said before the old ways are fading fast. If we don't write them down they'll go with us. I can't stand to see it lost forever. When I'm traveling down the road and pass an old barn or house I can't help but hear the echoes and feel the vibes coming from each one. Those long ago days that filled them with so much joy is over but they've all got a story to tell. I look for things such as this and take pictures with my mind. In my book there's a poem called "Yesterday's Sky" and another one called, "There's Nothing Worth Losing". that pretty much sums it up for me. This place I call home here in the Appalachia is a way of life I was born into and will cherish the rest of my days. I have a Poem up on my Blog right now that best describes what Appalachia means to me. It's called, "I'm From Appalachia" and the last verse reads, "These mountains I call home just beyond the horizon, my spirit dwells and tranquil peace does shine, I will plant it firmly for those who follow after, in hopes they'll never leave the chimney smoke behind." I've traveled far but never far enough to not see the chimney smoke. Feel free to go to my blog, Country Side Poet, and read my writes anytime. 
———————–
I hope you enjoyed the interview! Susie is a wonderful preserver of Appalachian culture and heritage. My brother got her first book (Rhymes Of My Life) for me-it's wonderful-and Susie's latest book, Echoes of Time is every bit as good as the first one.
Tipper