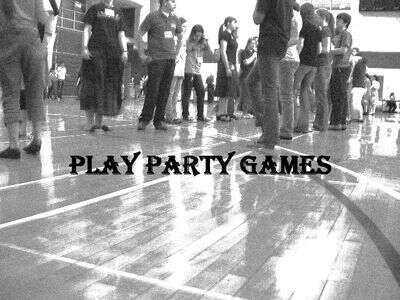 Have you ever been part of a play party game? I bet you have even if you think you haven't. Play party games involve singing, clapping, and other rhythmic moves. Generally, in the old days play party games did not involve dancing-but between all the walking, singing, and clapping I'd say most of them came pretty close to it.
In days gone by, some churches in Appalachia frowned upon any type of dancing. Play Party Games were a way to get around the dancing part-but still allow for socializing between the opposite sexes.
In Old Time Dancing Friedland explains the issue like this:
Throughout the region the dance tradition has had to contend with objections from certain religious groups to both dance and instrumental music. Appalachians have come up with a variety of strategies over the years to try and resolve this tension between dance and religious beliefs. In many communities, individual dance figures were often transformed into play-party games. Though play-party movement patterns were similar to or, in some cases, identical to dance figures, they were not considered offensive because performers would sing their own accompaniment. In other communities, people would refer to dancing as "playing games," even though it was accompanied by instrumental music.
Although the religious restraints have loosened considerable over the years, many play party games are still played at community centers, schools, and square/contra dances. In a few weeks, me and the girls will head up to Berea KY to participate in the 77th Annual Mountain Folk Festival which was designed to ensure the youth of Appalachia remember the music, the words, and the movements of play party games as well as other traditional dances.
As the month of April marches speedily forward, I'll be sharing all sorts of children's games from Appalachia-so stick around.
Tipper