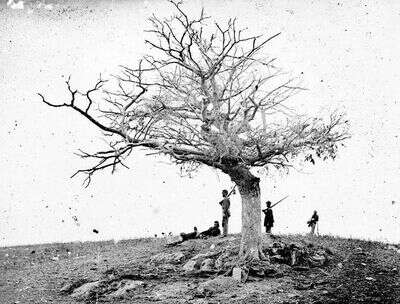 A lone grave on the battlefield of Antietam (Sharpsburg) (Library of Congress)
—————–
Greasy Cove Tennessee Washington County
March the 2nd 1863
Dear Father
I seat myself to write you a few lines that I am still in the  land of the living   hoping that these lines will find you and all of the family in good health   I am not very well at this time but have been well all of the time until a few days ago   I have the bad cold very bad   I think that I will be well in a few days   we have been doing some very hard scouting   we started one morning last week at two o'clock and walked all day until night over the mountains and did not get anything to eat until between one and two o'clock   some of our boys went to the limestone cave and they got back   and they got two bush whackers   General Jackson is in this part of the country and a part of our men crossed Chucky to go with the general   they are a going to give the mountains about the line a general scouting   they killed one of the bush whackers yesterday   they found three of them at a camp and they started to run and they shouted and they would not and they killed one of them and the others got a way   there is camps nearly anywhere in this country where there is there is a thicket    Arch Henson met with a bad accident the other day   I believe it was yesterday morning   he was going to get into a canoe   had his gun on a rock and hit the cock on a rock and it went off and hit him in the back   I do not know if it went to his hollow or not   the doctor says that he will get over it    I expect it very uncertain whether he will
March the 3rd
I feel some better this morning but not at all well   Big Jason Ledford and Hezakiah Smith runaway a few days ago   I recon if he went strait on he is at home today   he did not tarry with us long   I think that he just come after his money and not as he aimed to stay   he is a true lover of money   and at least he thinks more of money than he does for his character   we a getting a plenty to eat for ourselves and our horses   my horse is in a little better condition than he was when I wrote you last   our men are very much scattered    Lieut Barnard and about twenty four are here   and there is a detail of fifteen with Lieut Feancher   Lieut Anderson and all of the rest of the sick a way down below Johnson Depot and the last that heard of Lieut Cunningham he was in the Elizabethton area   I do not know here James Crawford is now   He was a getting better   I have not got a letter from home for some time now   the last one I got was from brother James H Penland   I got a letter from Mr E M Scroggs   he is well   he says he thinks that the folks of Macon and Clay have forgot him   I expect that would be glad to hear from you all at home   I do not  know when I can write again for we are all nearly out of paper and we can not get any paper in this part of the country    we can get some by sending to Jonesborough or Greensville   I want you to write me as soon as this comes to hand   I must bring my few lines to a close   give my love and respect to all the children and Mother and grandma and also Mr Sherman   still address to Hanesville Washington County Tenn   tell Uncle Charles and family howdy for me   so no more at present but remain your affectionate son as ever
to H M Penland
                            William C Penland
—————–
Reading this letter-makes me sorry W.C. is feeling under the weather with a bad cold. Interesting how he continues to use the letter as a means to share news about the other soldiers from home that he is stationed with.
Ledford is a very common surname in Clay County today. I wouldn't doubt there is a 'Big Jason Ledford' currently living in the very area of W.C.'s home.
He still isn't getting letters from home as much as he would like. And it sounds as if James H Penland has gotten even fewer letters from home. The line: he says he thinks that the folks of Macon and Clay have forgot him really pulls at my heart strings. I'm sure the reason the boys didn't receive letters frequently was the mail system itself. Much different from the 'instant contact' we have with loved ones today.
What jumped out at you from the letter?
Tipper