Coming in at number 12 in the most popular Blind Pig & the Acorn posts is Canning By The Zodiac Signs. I published the post on July 16 of 2009 (Pap's birthday!)
I frequently get questions from folks about the correct time for making kraut or other types of fermented pickles. Even Granny has called me 3 different times this summer to see if I'd ask The Deer Hunter if the signs were right for what she's wanting to make. After the second call, I said "You have the same calender we do and no it's not in the right signs." She said "I know I just wanted to ask you anyway."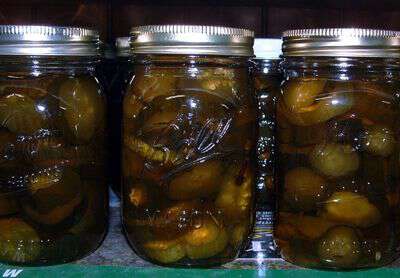 We've already talked about how the Zodiac Signs dictate the time to plant your garden-but what about telling you when to can all that garden goodness?
Granny only worries about the signs being right-if she's making Kraut or fermented pickles (pickled beans and corn). The same for The Deer Hunter's family.
The Deer Hunter and I go by the zodiac signs for pickling/fermenting too. Sounds like it's all hunky dory and settled right? Actually-not so much. Choosing which sign is the right sign is where it gets confusing.
Our families agree-the Zodiac Sign should be in the head for the best results when pickling or fermenting-and you can still have a fairly good chance for success as long as the sign is above the heart-but never ever below the heart or all your hard work will be for naught cause the produce will rot-or never pickle. But other folks see it totally different.
Just this week I've had 2 people tell me their preferred sign for pickling/fermenting is the feet-and if you do pickle when the signs are higher in the body-your produce will rot or be slimy. So who is right? I tried researching online to see what the general consensus is-but there isn't much information available.
After seeing the lack of information available on the Internet-I know when folks search for details on pickling/fermenting by the Zodiac Signs in the future-they will find this post. Please help me-answer the questions they'll be looking for:
Do you follow the Zodiac Signs when canning everything-or like us just when you're pickling/fermenting?
What sign do you think is the best for pickling/fermenting? For canning?
If you don't know-does anyone in your family have information about preserving by the signs?
Tipper