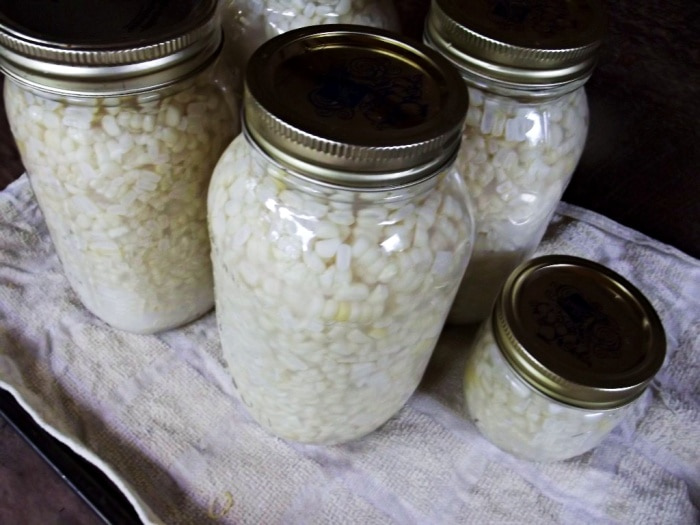 Decades ago, families throughout the Southern Appalachians would salt-pickle barrels of corn on the cob. Ernest Parker of Gilmer County, Georgia, remembered that "They started doing that somewhere around the early thirties, when the Great Depression came on. They'd brine-pickle barrels of whole ears of corn just like they pickled kraut and beans."
Bonnie's Pickled Corn
Armload of fresh corn (12 to 15 ears)
1 cup of salt
In fall pull armload of corn from stalk. Shuck the ears, removing damaged ends and silks. In a large pot, cook until done. Cut corn off cob into a large pan. Add the salt, and stir well. Put into clean, sterile quart jars. Fill jars with boiling water. Seal and store in cool place or put into crock and store in cool place.
—"Smokehouse Ham, Spoon Bread & Scuppernong Wine" by Joseph E. Dabney
---
I had big plans of visiting Papaw Tony this summer and videoing him making his world class pickled beans and corn but never got it done.
The other day I had a few ears of corn that needed to be eaten and I made some jars of pickled corn with them.
Back in 2009 when I shared Papaw Tony's recipe for pickled beans and corn William Murphy left this comment:
"I remember well my grannies pickled beans and corn. For those that don't have a large crock, here is a simple ball jar recipe. Boil corn for five minutes. Drop in tub of ice water for five minutes. Cut off cob and pack in pint Ball or Mason jars. I like the wide mouth jars for this. Add one teaspoon of pickling salt per pint right on top of the corn. (use two teaspoons of salt if you are using some of the newer hybrid sweet varieties of corn). Pour hot water into each jar of corn until just about to run over the top of the jar. All corn must be covered with water. Add canning ring and lid but just screw down loosely snug. Place under kitchen counter for 9-14 days on top of a cloth towel. The jars will work off and emit some water. At the end of the 9-14 day period, take lids off jars and wipe down top of jars and lids to remove any residues that would prevent sealing. Reapply lids hand tight and place in water bath canner for 15-20 minutes. Let cool and lids should seal. Redo any jars whose lids do not seal. This method works very well for corn, beans, Okra, green tomatoes, or a combination of the above."
Williams recipe is very similar to Bonnie's Pickled Corn from the cookbook. I have used his recipe several times over the years and it always turns out great.
---
Last night's video: Hankering After, Hard Feelings, and Happy Juice in Appalachia.
Tipper
Subscribe for FREE and get a daily dose of Appalachia in your inbox