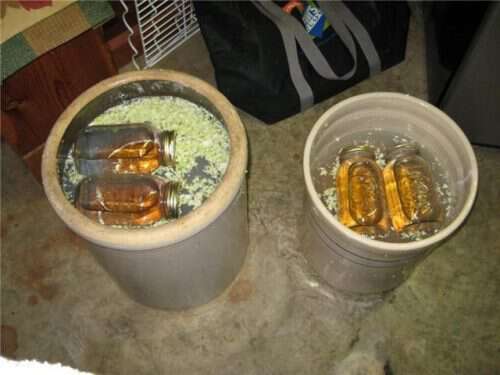 The first time I ever tasted Pickled Beans and Corn was back in the day when The Deer Hunter and I were dating. Seeing the pan of green beans and corn cooking on the stove-I wondered why these people mixed up their beans and corn before cooking, but was too shy to ask.
I must admit when I first tasted the mixture I thought something was wrong with it and hoped no one noticed when I scraped it into the garbage can.
Pickled beans and corn was a food that had to grow on me. Now I crave the stuff. One of my favorite meals is fried deer meat, stewed potatoes, cornbread, pickled beans and corn, and a glass of sweet tea-it just don't get any better than that.
In the days before grocery stores, freezers, and canning jars folks had to have a way of preserving food to make it through the winter. Often they chose the pickling/fermenting method.
For pickling a large amount of food they used crocks, large pottery containers. Before crocks were plentiful folks used wooden tubs. After the fermenting process was complete the mixture could be stored in the crock and folks would dip out the product as they needed it.
Over the years as my love of Pickled Beans and Corn has grown I've decided The Deer Hunter's Dad, Papaw Tony, is the master of pickling beans and corn. Here is his recipe:
Papaw's Recipe is for a 8 Gallon Crock-1 Bushel of Green Beans, 5 Dozen Ears of Corn, 3 Large Heads of Cabbage, Peppers to taste-you can use-banana, jalapeno, or cayenne (or you can leave the peppers out completely), 2 lbs of Pickling Salt-DO NOT use Iodized Salt it will not pickle. Papaw follows the signs and makes Pickled Beans and Corn when the signs are in the Head.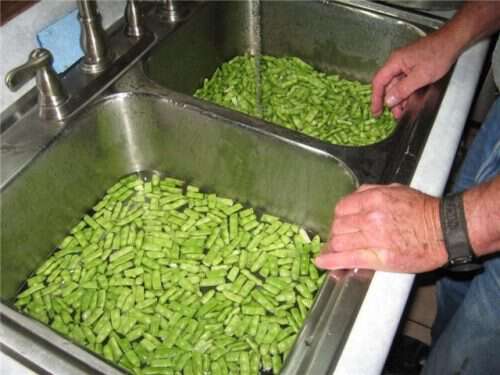 First: String and break green beans, wash well in sink.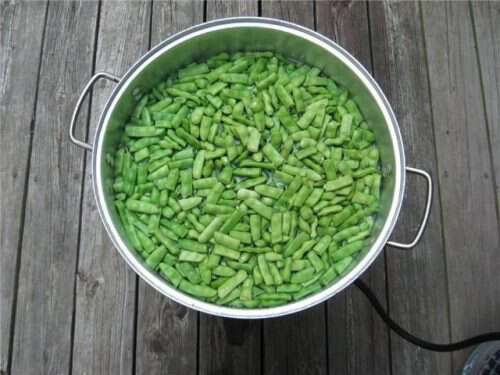 Blanch-put in pot bring to a boil-drain-rinse again, put back in pot and boil for 30 minutes, drain and cool. (We use a gas fish fryer/turkey cooker to cook outside-this keeps the house cooler-and cooks faster)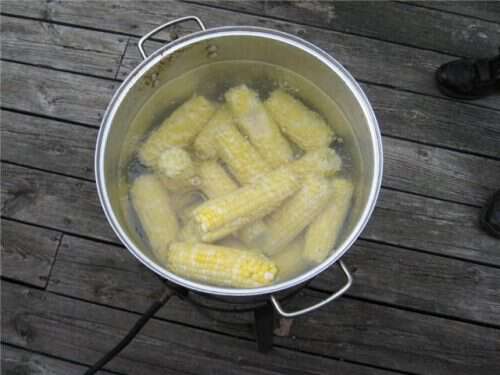 Shuck and silk corn, bring water to a rolling boil-then add ears of corn-cook for 45 seconds. (Papaw says "if you don't bring the water to a boil first-before adding the corn-you will over cook the corn")
Drain corn, cool, cut off the cob.
Chop cabbage-Papaw uses a food processor-chop the cabbage to a small consistency-but not as small as you would for slaw. Papaw adds cabbage-because his Mother did-if you don't want to add cabbage leave it out-the recipe will still work. You do not cook the cabbage.
Chop up peppers-the amount you add depends on your taste. The Deer Hunter likes his with a little heat-so he added about 10 Jalapeno Peppers. Me-I'm hoping he didn't add to many because I don't like it hot. Remember you can use-banana peppers-jalapenos-or cayenne peppers. Or you can leave the peppers completely out.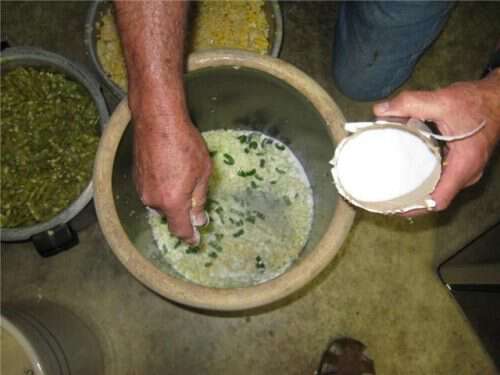 Now it's time to put all the ingredients into the crock. Begin with a layer of salt in the bottom of crock, next layer of green beans-about 1 1/2 inch thick, layer of corn 1 1/2 inch thick, layer of cabbage 1 1/2 inch thick, sprinkle a few peppers, add another layer of salt.
Repeat the layering process until you reach the top of the crock.
When you've layered in all the ingredients-you add enough warm tap water to cover the mixture. As the water mixes with the salt, it will be the brine that pickles the corn, beans, and cabbage.
Use a kitchen plate to push all the ingredients under the brine water. Weight it down with 2 mason jars filled with water. Cover with a towel. After about 2 weeks the pickling will be finished.
After 2 weeks taste the mixture and if you don't think its quite right yet-leave it another week or so and check again. It is totally normal for a film of moldy looking goop to be on the very top of the mixture. Just take a spoon, ladle it off, and discard it. If the entire crock goes bad-don't worry you'll totally know it by the smell-and the bugs that will be in it.
You can leave the mixture in the crock-or remove and can. We can ours using the open kettle method of canning (which means getting the pickles hot and the jars hot)-it will last several years after being canned. If you would rather-water bath the jars for 15-20 minutes.
Making Pickled Beans and Corn is quite a process, but it is so worth it that we make them almost every year.
Have you ever eaten Pickled Beans and Corn? Do you like them? Have you ever used a crock for pickling?
Tipper