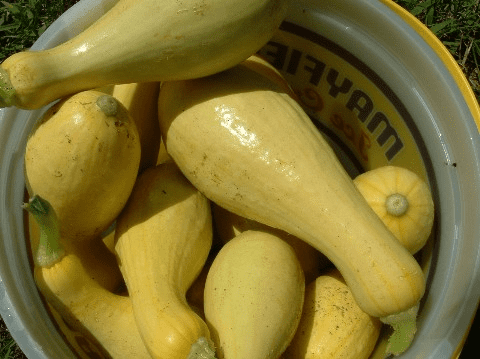 Yellow Squash has been a favorite veggie of mine since I was a child. I'm hoping this year's garden brings a bumper crop. Last Summer's tremendous rain fall caused our squash plants to grow to gigantic proportions and then sort of bust from the extraordinary amount of moisture leaving most of the squash rotting on the vines.
Sow True Seed, which sponsors the Blind Pig Garden, generously donated enough squash seeds for me to share with Blind Pig & the Acorn Squash Reporters @ Large this year.
The donated seeds were a combination of several different varieties of squash-from yellow crooked necked to pumpkins-with more than a few that I had never heard of.
I ask Pap and Granny if their parents grew yellow squash when they were kids. Granny said the state took their garden to build the new 4-lane, and she couldn't remember what her mother planted before that.
Pap said-they grew a different kind of squash. By his description-I'd guess it was a Cushaw. He remembered it lasted longer than yellow squash, was a light orange tan color and seemed tougher like a pumpkin. His mother cubed it then fried it with sugar and water-kinda like sweet potatoes.
Seems everyone in our area grows yellow squash. Pap said it was in the early 60's or 70's when yellow squash first became popular in this area.
Not one of my myriad of squash have blooms so far-but I'm thinking it won't be long. I'm anxious to see how the new varieties turn out for me-as well as for the reporters @ large. I know some of you are interested in seeing how it all shakes out too.
Tipper