When I picked the girls up from school yesterday they were starving, as usual. Chatter asked "what's for supper?" (like she does everyday) and I had a surprising answer for her-owls.
Never missing a beat-Chatter said "I'm not eating any feathery owl and neither are you."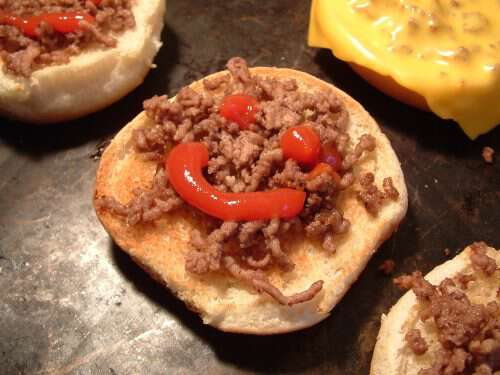 Back a few months ago, when I asked for make do dishes or recipes, Jenifer M. sent me this one:
I remember, when we were growing up, having what my mom called "owls".  I have no idea why they were called that, maybe because they looked like owl eyes. I'm the youngest of 6 kids, and I never remember feeling like we were experiencing hard times, but looking back, I realize we went through some lean years when my dad's business went through some ups and downs. Anyway, an owl was a pre-toasted split hamburger bun that had a thin layer of hamburger meat spread on it then broiled in the oven. I loved them!  It must have been fairly lean meat, because I don't remember them as being very greasy, and it could make a little meat go a long way. A ketchup smiley face was all it needed to be delicious! 
I made hamburgers for supper on Monday night-leaving enough meat in the package for one more hamburger, not enough to feed us all. So I thought Tuesday night was the perfect time to try out Jenifer's Owls.
I'm not exactly sure how her Mother made hers, but I browned the meat then put a thin layer on a toasted hamburger bun. I added cheese to mine and popped them all under the broiler for a minute or two.
Then I called the girls to come get their owls. I even put smiley faces on them like Jenifer's Mom. Chatter decided she liked owls after all and Jenifer's make do recipe made the meat for one hamburger stretch to feed us all.
The Owls were yummy, but Jenifer and I are still wondering about the name. Do you think her Mother made the name up because the buns reminded her of owl eyes or maybe she called them owls because that's what she was told they were when she learned to make them?
Tipper