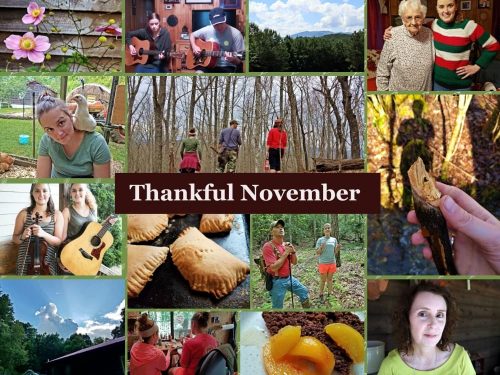 "Pa spent many long hours at the sawmill. Ma planted the garden and took care of the livestock. All summer she worked toward making the long winter a comfortable one. She preserved all the food, milked, churned the butter, spun and wove material for clothing, and then hand-sewed all they wore except their shoes. All the energy she had used working for other people could now be used to make a home for her own family.
When the first snow came, they were ready for the isolation it brought. Dried fruit, meat, and vegetables would easily take them through the longest winter. Pa would take his rifle to work sometimes and bring home a squirrel for fresh meat and gravy."
—"Dorie Woman of the Mountains"
---
Today's Thankful November giveaway is a used copy of one of my all time favorite books "Dorie Woman of the Mountains" written by Florence Cope Bush. To be entered in the giveaway leave a comment on this post. *Giveaway ends November 15, 2020.
I've written about this book a number of times. Here's a few links for you to read the posts and find out more about the book.
Mountain Traits from Dorie: Woman of the Mountains
Norwegian Wharf Rats in the Smoky Mountains?
Tipper
Subscribe for FREE and get a daily dose of Appalachia in your inbox