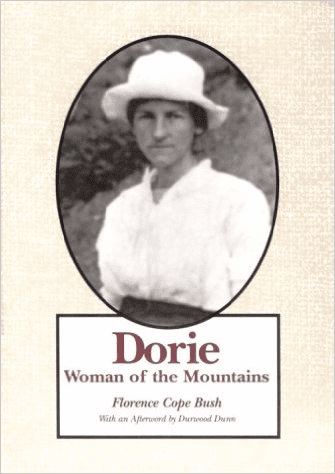 One of my favorite books about living in Appalachia back in the day is Dorie Woman of the Mountains written by Florence Cope Bush. The book was first published in 1992 and has been published at least 7 times since then if not more. In the introduction Florence Cope Bush writes
"Dorie: Woman of the Mountains was not written with the idea that it would ever be published. I wrote it as a gift to my daughter, my mother, and myself. The manuscript was in my possession for fifteen years before a friend talked me into letting him publish two thousand copies in paperback for local distribution."
The book is a biography about Bush's mother, Dorie. The story spans the years between 1898 and 1942 and is set primarily in the Smoky Mountains.
Even though my life is drastically different than Dorie's I identify with the way she looked at her world.
—-
The only animals we have to take care of other than Ruby Sue are our chickens. The Deer Hunter built them a nice sturdy house that is totally enclosed in a large run. He even added doors on the backside of the house so we can get to the eggs without going inside the closed pen. My sister-n-law refers to it as the Chicken Condominium.
The chickens have a ramp that leads up to the house, which is on stilts so that they can get under it if it rains, although our chickens seem to prefer standing in torrential downpours for some reason! At the top of the ramp is a small door that latches on the outside. Once the chickens go in to roost at night, we go out and lock them in. Next morning we go out and unlatch the door so they can come out.
The girls feed the chickens in the afternoon and check for eggs, but the unlocking and locking up of the chickens is The Deer Hunter's job, unless he's gone off hunting. When he's not here the putting up and letting out is left to us.
I try to remember to shut the door at dusky dark so that I don't have to go out in the pitch black, but sometimes there's no help but to go out in the dark and get it done.
In the last few months we've had a bear practically on the deck and two large coyotes near the back deck that didn't seem intimidated by The Deer Hunter nor his bright flashlight. These recent sightings have caused the girls to be reluctant to be the one who shuts the chickens in at night.
Dorie's daughter faced a similar dilemma when she was sent to the spring house.
"The mountains were beautiful. Cold, crystal springs cascaded down the slopes. We got our water from one several yards away from the house. Countless trips were made to it everyday. One evening at dusk, Wilma took a bucket and started for water. Unknown to her, the water had attracted something else too. Just above the spring, two golden eyes glared at her, watching every move. A wildcat crouched low to the ground, ready to spring when she came close enough. Wilma could feel the intensity of the gaze before she saw the cat. She froze for a second as the golden eyes narrowed. She dropped the bucket and ran toward the house. She didn't look back to see if the cat was coming. Her eyes were on the crossties. If she missed one and fell, the cat would be on her in a minute. The door flew open and a white-faced ghost of a child collapsed on the floor. Fred took his rifle and went back to the spring, but the cat was gone. "
Tipper