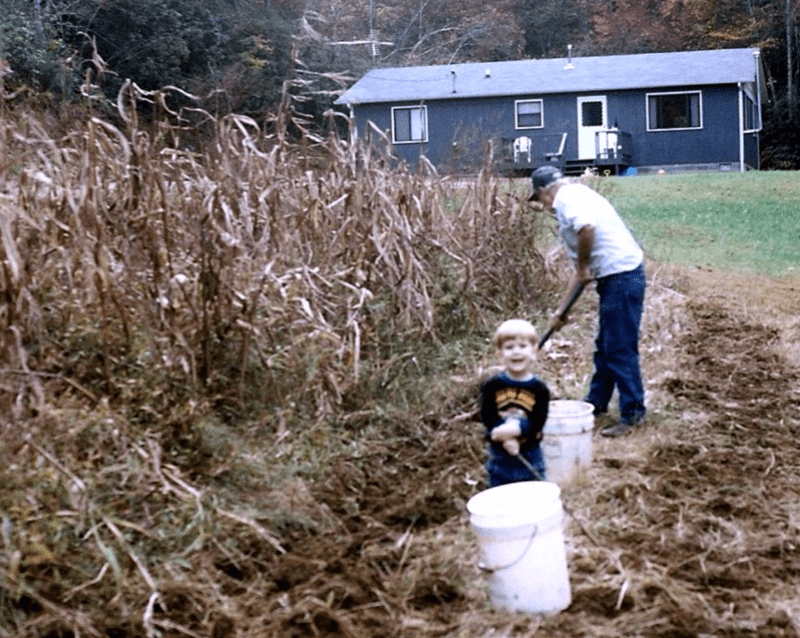 Pap and Ben-the first grandchild
Growing up we called Pap's father, Wade,  Papaw. Granny's father, Charles, died when she was pregnant with me-I've never thought to ask Steve what he called him.
Steve's oldest son Ben was Granny and Pap's first grandchild. Steve and his wife asked Pap and Granny what they'd like to be called and as you probably already figured out they said Pap and Granny.
Even though Steve, Paul and I called Pap's father Papaw-Pap called him Pap. I'm guessing that's why he took the name himself when Ben came along. Of course by the time all the other grandkids came along Pap and Granny's monikers were firmly in place.
Chatter and Chitter call The Deer Hunter's father, Tony, Papaw. Papaw is probably the most common term for grandfathers in my area of Appalachia. Grandpa would probably be a close second.
My dictionary of Smoky Mountain English has an entry for Grandsir-saying the name was used for grandfathers as well as for older men in general. When Pap tells stories about days gone by he often refers to someone who was elderly when he was a boy as grandsir. But I've never heard anyone else use the term.
As father's day draws near-I'm thankful I had a dandy Papaw Wade. I hear his voice in my head at times and see his twinkling eyes. And there's never ever a time that I smell sawdust that I don't think of him.
Although Granny's father died before I was born, I had a pseudo Papaw on that side of the family-Uncle Woodrow. He was always at Granny Gazzie's house and he was always kind to us.
I'm thankful Chatter and Chitter have had 2 grandfathers actively involved in their lives-a Pap and a Papaw-they are truly blessed.
What names are used for grandfathers in your family?
Tipper