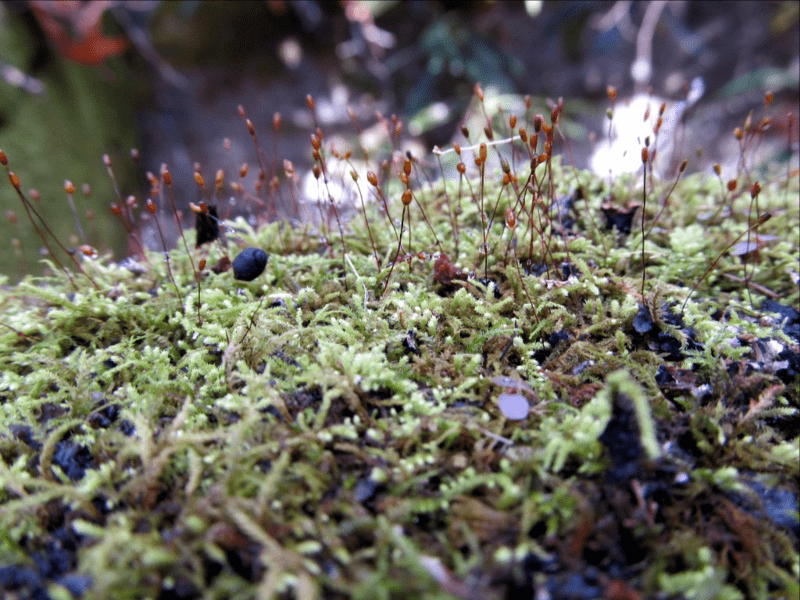 We never knew about Gallackin but we did gather moss and boxwood cuttings to sell to florists. Way back in the woods, in deep dark damp hollers where the sun never shines, the thick moss on big rocks can be peeled off like taking covers off a bed. I have seen pieces as big as 4 to 5 feet square. We would roll them up and put them in a tow sack. Boxwood is a domestic plant so we found it around homes and old house sites. One year in November we waded across the Little Tennessee above Loudermilk to get to an old homestead. I wasn't being careful about where I was putting my feet and stepped into a hole that put me completely under. I got out, shook off and kept going. Coming back across we had to put our tow sacks on our heads to keep them dry but we made it unscathed.

–Ed Ammons
Ed's recent comment sent my mind on a whirlwind of memories. No I didn't used to gather moss to sell like Ed-but I did gather it to line my playhouses with. I thought to myself "Wow I was a Moss Specialist back in the day. No I didn't know the correct names for the different types (I still don't)-but I did know what worked best for my needs in the pretend world I created in Granny and Pap's backyard. There is moss like in the photo above-it worked best for chairs-it has the texture of an old worn out carpet in some old Granny's house. At least that's how I always thought of it.
Then there is the lush deep thick green stuff Ed was talking about. A blanket indeed. There are places in Granny and Pap's yard where it is at least 5 inches thick. It only takes a small tug to lift entire pieces from the ground. Underneath-you'll see a wrinkled shriveled looking area and perhaps a few scurring bugs as they head for the nearest moss blanket that hasn't been disturbed by a small skinny girl. Or by a skinny young mother.
When The Deer Hunter and I first moved into our humble abode-we had no landscaping-in all actuality we didn't even know what landscaping was. Wanting to make my backyard look neater I gathered small creek rocks and made a flower bed bordering the edge of the house. Being impatient for green plants that I didn't have, I climbed the ridge and threw down pieces of moss that grew under the towering pines. I laid the moss along the rocks and in no time my little flower bed looked as old as the hills-which is exactly what I wanted.
My kitchen table has been a Christmas crafting frenzy mess for the last few weeks. Once we start crafting-we don't even clean it up until we're totally sure we're finished with every little thing we want to make. An old sheet from one of Paul and Steve's twin beds is thrown across it and there are so many crafting materials on the table that there's hardly room to craft.
I've been trying to make a snow globe out of a mason jar-but I couldn't get anything to look right. Ed gave me the exact inspiration I needed. I ran down the hill to Pap's and carried a handful of thick moss back up the hill. I loved how it looked immediately-just the green moss looked lovely captured in the upside down jar.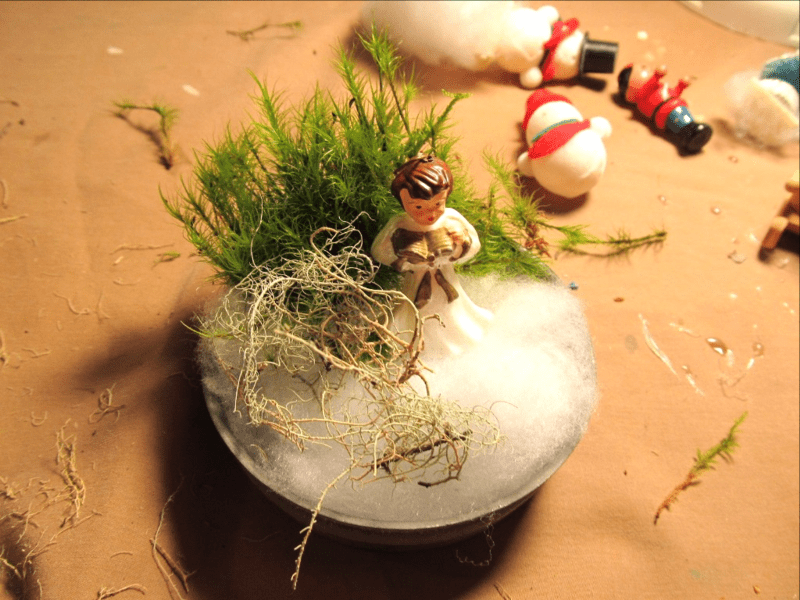 Once I knew the idea was going to work I added a small amount of cotten for snow, an Angel that fell off an old Christmas ornament, and a piece of dried lichen I stuck in my coat pocket on a recent hike with friends.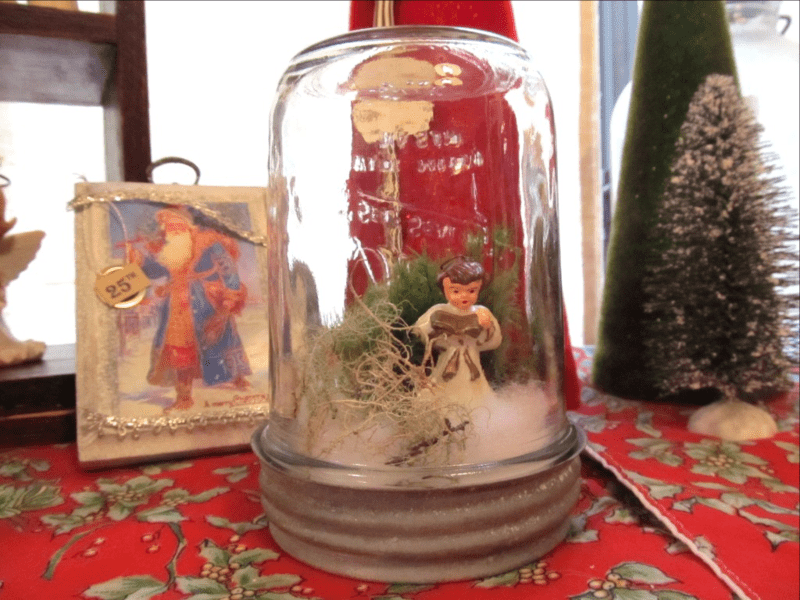 I am so pleased with how the project turned out. It was made from items I had on hand; I can use the jar for it's intended purpose again come canning season; and everytime I see it sitting on my buffet I'll think of mine and Ed's childhood memories and the magic of moss.
Tipper