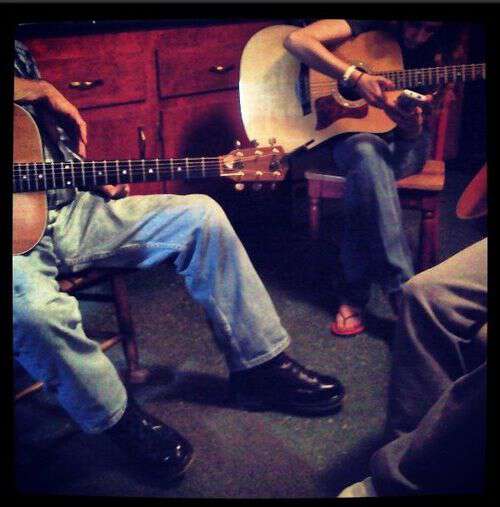 I got the old song Ten Paces on my mind the other day. As I was humming along with the song in my head, I wondered if I'd ever shared our version of the song here on the Blind Pig. A quick check of the archives told me I hadn't, and a quick google for the song left me wondering who in the world sung it but us?
Every time I searched for information about the song, I either found Pap and Paul or a pop song with a similar name. I searched in connection with Marty Robbins since it seems like a cowboy song he would sing. Came up with nothing on that score either. I finally decided maybe Paul wrote it.
A few emails later Paul assured me he didn't write it even though he wished he could lay claim to it. He said they learned it from Reno and Smiley and he always figured Don Reno wrote the song.
I searched for Ten Paces in connection with Reno and Smiley and managed to discover Gertrude Doro penned the song. But that information, and the fact that Reno and Smiley released the song, were the only historical details I could find about it.
The song is a real toe-tapper. It tells the story of a man stealing his best friend's sweetheart and then having to take the dreaded ten pace walk that happens before both men draw their guns to fight for the girl. The story grabs your attention and squeezes your heart once he kills his best friend and loses the girl all at once. My favorite part of the song is Paul's amazing flat top picking.
I hope you enjoyed the song and if you know any historical details about it please share them.
Tipper