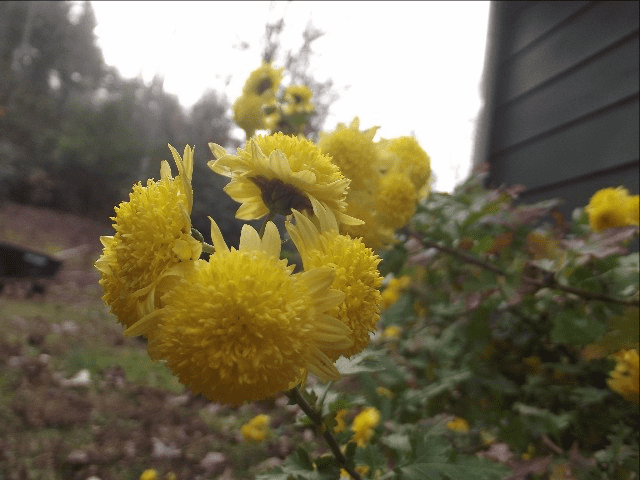 Ask most folks what flower they associate with fall and they'll say mums (chrysanthemums). By the end of August or first of September you can see them popping up in front of Walmart and scattered among the produce at fruit stands and grocery stores alike.
Mums come in amazing colors these days-from purple to rust orange and everything in between. When I was first married I was crazy about flowers, I still love them, but I focus my gardening efforts on veggies and fruits these days.
For the first few years I was married I planted a pot or 2 of mums every year. Sometimes they came back the following year sometimes they didn't. Even the ones that did only lasted a few years before they completely disappeared from my flower beds.
Granny's mums are the old fashioned variety. She has a yellow pom pom-you can see it in the picture above, and a white daisy type mum that has a yellow center. I'm positive someone gave Granny a start of the mums years ago. I know they've grown in her flower beds as long as I can remember.
The mums bloom like crazy year after year after year. Their only downfall is they grow so tall they fall over into the yard. But when you really think about it who can complain about walking on blooms for the last 30 years or so? Not me.
Tipper
Appalachia Through My Eyes – A series of photographs from my life in Southern Appalachia.