Today's guest post was written by Ethelene Dyer Jones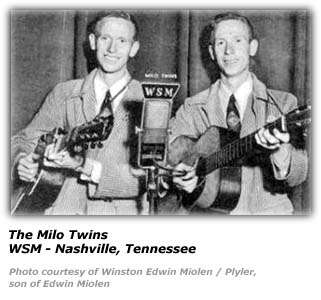 The Milo Twins – Country Music Stars written by Ethelene Dyer Jones
They were not rated as "taking the country by storm" with their country music claim to fame in the 1940's and 1950's but The Milo Twins did cut some popular records and star in some movies. They were on the Grand Ole Opry. They went to Hollywood and starred in movies with Roy Acuff and Tex Ritter. Their stage name was The Milo Twins, but their real names were Edward and Edwin Miolen, and they had roots in the Copper Basin area of TN.
Edward and Edwin Miolen were sixth generation descendants of the immigrant from Italy, Framergia Miolen (1782-1850), who was part of the Polk County "Old Dutch Settlement," arriving here about 1847.
The Milo Twins were born November 11, 1916 (some say in Copperhill, others say in Georgia) to Andrew Miolen and Myrtle Law Miolen. The couple married in Polk County, TN on January 22, 1914. They were listed in the 1920 Fannin County, Georgia census in the Flint Hill District with children Edward, Edwin and Stella May (born May 8, 1917) and Myrtle's son, Pledger Morris, who was born to Myrtle before she married Andrew. Andrew Miolen died March 11, 1930 and was buried in the Mobile Baptist Church Cemetery. At the time of their father's death, the twins were thirteen.
Family lore holds that the teenaged twins were somewhat out of control, ran away from home, and were otherwise going through a period of teenage rebellion. Myrtle Miolen was able to get the twins into the Tennessee Industrial School in Nashville. At the time the Miolen twins were there (1930 and following), Dr. Christian Menzler was superintendent. He was noted as a compassionate and caring administrator who was a strong advocate for the underprivileged children who came under his care. In 1930, 862 students were in the boarding school.
Just how the Miolen twins broke into the country music scene is unknown to this writer. However, an article in a California magazine of 1948 indicated that the twins had been educated at the Tennessee Industrial Institute. When they had earned enough money to go west, they headed to California. They seemed to be doing well in their music and acting careers.
Movies in which they played and sang were: "Sing, Neighbor, Sing" starring Roy Acuff; "Marked for Murder" with Tex Ritter; and "I'm from Arkansas" in which their song, "Pass the Biscuits, Marandy" was featured.
In the late 1940's they cut a record of a song that quickly became a hit, played on juke boxes throughout the country. It was "Truck Driver's Boogie" and spoke of the "long, lonely hours on an endless ribbon of highway," and the "well-paid sailor on a black-top sea." It was the era of the big rigs that hauled products long distances. The free-wheeling truck drivers were a ready subject for the hillbilly boogie craze. The Milo Twins capitalized on the idea and wrote a song to honor these long-distance drivers. In this song, one of them played the harmonica and the other the guitar. Capital Records produced the song on an album entitled "The American Series" in 1948, along with other country stars of that period.
Another popular song by the Milo Twins was "Baby Buggy Boogie" which lauded the return of the soldiers from World War II and the "baby boomer" generation.
It is said that the Milo twins wrote the words to the songs they sang and composed the music for them.
Edward Miolen married, first, a girl named Dorothy, but this marriage evidently ended in divorce. He married, second, Foy Mae Crisp and they had two children, Bufford (Ford) Miolen Miller (1932-1988) and Ernest Crisp Miolen (1934-2004). Edward Miolen died January 19, 1978 in LaFayette, Walker County and was buried in West Hill Cemetery, Dalton, GA, Whitfield County.
Edwin Miolen married, first, Ruby Pearl McMillan. They had one daughter, Barbara Anne, who was born June 4, 1936 in Nashville, TN. Edwin married, second, Lancy Rene Kelley in Birmingham, Al in 1941. That marriage was short-lived and ended in divorce in 1943, but not before a son, Winston Edwin Miolen-Plyler was born in 1942. When Winston Edwin's mother married again to O'Neal Plyler, he adopted Winston and hence the last name Miolen-Plyler. Edwin Miolen left the south and settled in Boston, Suffolk County, MA where he died December 19, 1965.
If you are interested in hearing the Milo Twins sing "Pass the Biscuits, Marandy," you may go here to view a youtube video. Some of the vintage records recorded by the Milo Twins are also available online for sale, but are rather expensive.
I thought you would like to know something about these country music stars who were born in the Copper Basin in 1916 to Andrew Miolin and Myrtle Law Miolin. The story caught my eye as I read the February issue of "The Polk County Historical and Genealogical Quarterly and Newsletter" compiled and edited by Marian Bailey Presswood in Benton,TN. Pages 15-39 of this past issue are devoted to the Miolen Family, with a comprehensive family genealogy compiled by Paul Trew of Lithia Springs, GA. Thank you, Mirian and Paul, for this excellent resource.
—————————
I hope you enjoyed Ethelene's post as much as I did-I found it especially interesting since I was born in Copperhill myself. I found one other video of The Milo Twins on Youtube-The Downtown Boogie. I had never heard of The Milo Twins before reading Ethelene's post-their sound reminds me of other brother duets from the same era.
Tipper