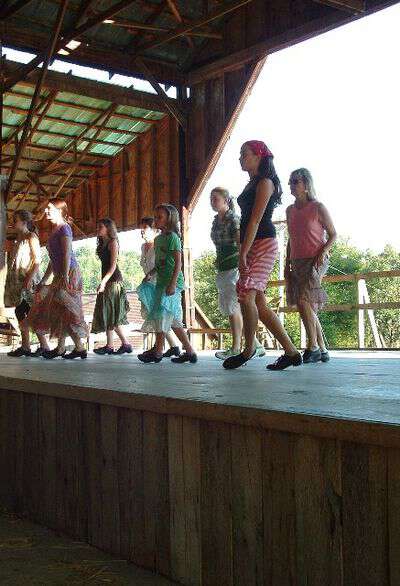 Chatter and Chitter have been clogging for over 5 years-that's a lot of watching for me. I swear sometimes I think I could do the routines because I've seen them so many times. Especially the ones that have been around since they first started. I enjoy the team's clogging whether its the weekly practice or a highly anticipated performance. I love it all.
Clogging saved my life one time. Well not really, but kinda.
Several years ago I was going through a particularly rough patch of life. Every Monday afternoon for two hours I could loose myself in the too loud music, the stomping feet, the smiling faces and the camaraderie that's always there. No one at practice knew about my troubles so I could pretend they didn't exist. I could pretend I was still part of the happy world. Sounds crazy I know, but single basics, rocking chairs, fancy doubles, and mountain goats beat out the song that told me things would eventually be alright. And they were.
There really isn't anything about clogging that I don't like, but there is one thing that makes me cringe. Like when you watched Evil Kenevil jump his motorcycle? You had to watch, but at the same time you wanted to close your eyes too.
You can see it in the photo above-see Chitter with the red bandanna on? She's in the process of doing an ankle breaker. That's really the name of the step and it really looks like their ankles are going to break. But hey don't and its super cool. Just like Evil Kenevil.
Think you could do an ankle breaker?
Tipper