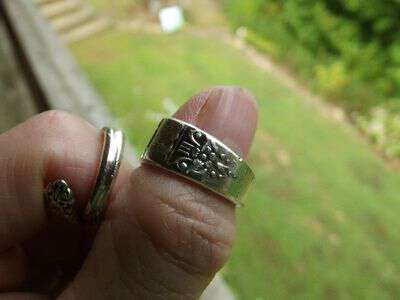 Did you ever have a spoon ring? They were quite popular in the 1960-70s and recently they've made a come back in the fashion world-well at least at the Blind Pig house.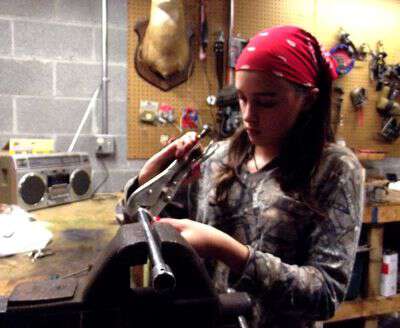 Chitter has always liked working with metal. She likes bending wires into cool shapes-making art with beads, wire, and whatever else she comes up with. She once made a whole family of metal people with yarn hair.
After her Blacksmith class this summer, she tried to think of a type of metal bending she could do here at home-the kind you don't need a forge for.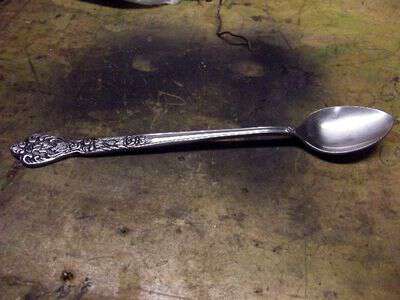 Years ago Miss Cindy gave Chitter a spoon ring. Chitter wore it all the time-but somewhere along the way she put it back in the jewelry box and forgot about it. As she was racking her brain for something to bend-she remembered the spoon ring.
I refused to give her one of my good spoons-and I didn't have any old ones. Off Chitter went to Granny's. Unbelievable to me-Granny gave her one of her good spoons. I said "Are you sure she gave it to you-gave it to you to destroy?" Chitter said yes she was positive. Funny how Grandkids change you-Granny used to get on to me and Paul about loosing her spoons-now she gives one to Chitter to cut and bend.
Chitter uses the following to make a spoon ring:
vice
hacksaw
vice grips
pliers
a spoon
3/4 inch ratchet extension
grinder
brass hammer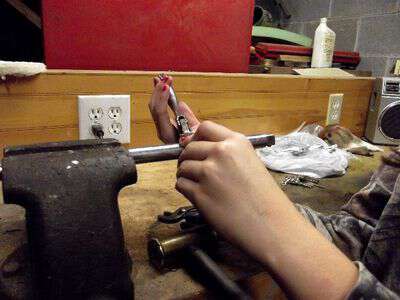 First she uses a hacksaw to remove the 'bowl' from the spoon. Next she places the ratchet in the vice and attaches the spoon to it with a pair of vice grips.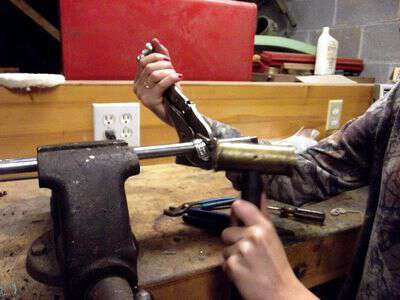 Then she uses the hammer to peck the length of the spoon around the ratchet into a ring.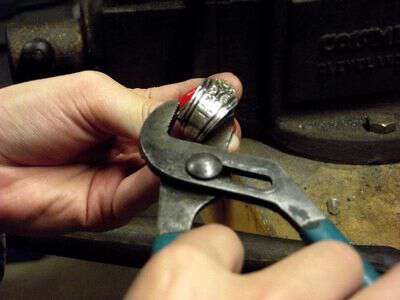 If needed-she shapes up the ring with pliers-and then uses a grinder to smooth out any rough edges-and a buffing polisher to make the finished ring shine.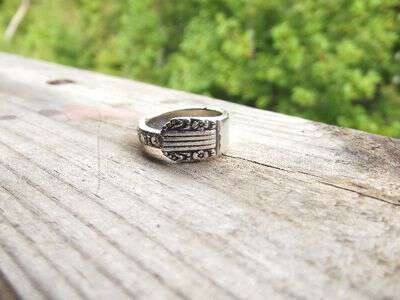 Chitter has made several spoon rings-the one above is my favorite-so simple-yet so lovely. One type of metal may work better than another-but Chitter doesn't even consider what the spoon is made of-if she likes the design-she makes a ring. Earlier this summer, Miss Cindy and the girls hit every thrift shop in the Asheville area looking for old spoons and they found some beauties!
As I was writing this post, I googled around to see if I could find the history of spoon rings. Its actually very interesting.
Historians believe spoon-and other cutlery rings were first made in the 17th century in Britain. Folks who were too poor to buy rings or metal to make them-and happen to work for rich people-would steal a piece of cutlery to make a ring. The stolen cutlery rings were often used as wedding rings.
Chitter says she will donate one her spoon rings for me to give away during my Thank You November Month of Giveaways-so one of you out there will get to wear one of Chitter's spoon rings too.
Ever worn a spoon ring?
Tipper